Spacetacular: RT to show world's first 360-view video shot in open space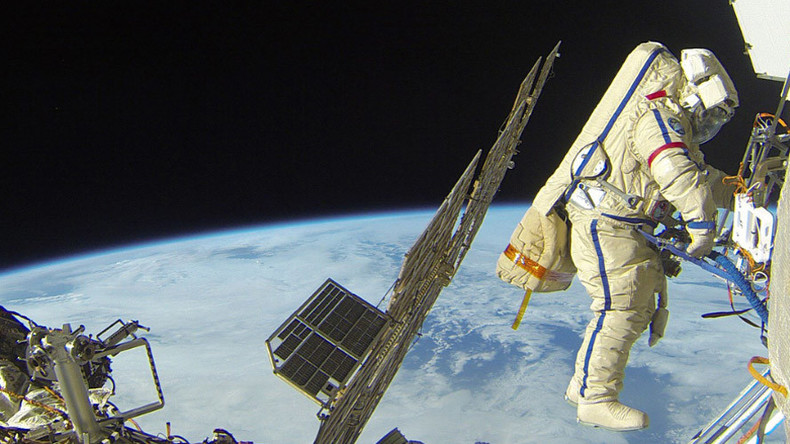 Next month RT will show the first-ever panoramic video shot in open space by the crew of the International Space Station (ISS), sharing an actual spacewalk experience with an unparalleled level of immersion.
"The first-ever panoramic video from open space is a revolution both for VR technology and for exploration of the universe," said Eduard Chizhikov, the head of RT's Space 360 project. "Thanks to the project any person on Earth may feel what being in space is like right at home. Our video offers an opportunity to get closer to the infinite."
The video was produced in collaboration with the Russian space agency and leading spacecraft producer Energia. It will premiere on October 3 during a special event at a VR theater at Moscow's Museum of Cosmonautics commemorating the launch of Sputnik-1, the first artificial satellite of Earth, in 1957.
Cosmonauts Sergey Ryazansky, who is currently on board the ISS, will tell the audience via a direct link how he shot the panoramic video during a spacewalk he conducted with Fedor Yurchikhin in August.
RT was the first producer of 360-view video content to shoot footage in space. The first clip shot on the ISS was published in November 2016 and was followed by six more. Cosmos 360 videos won international praise, with astronaut Terry Virts saying that watching it was like being back on the station.
RAD MORE: 'Feels like I'm back in space': US astronaut commends RT Space 360 at Starmus festival
RT is a leading producer of panoramic content, with over 130 videos made since 2015, when it joined the market. The video library is available through RT's Facebook and YouTube pages as well as mobile apps.