Russian sub hits terrorist group with Kalibr missiles after military police attacked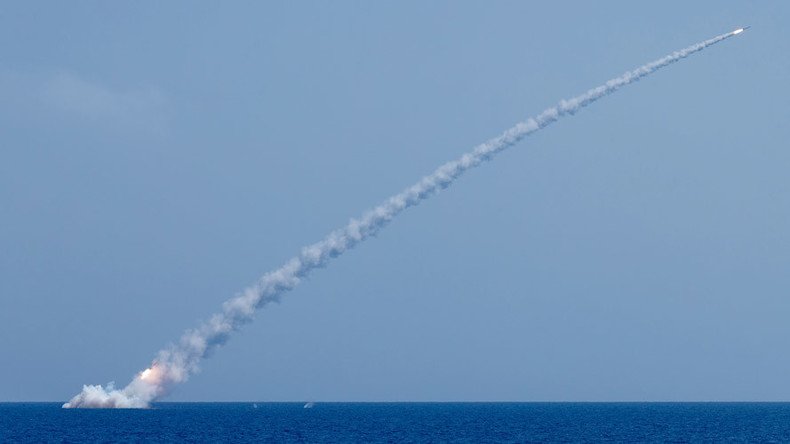 A Russian submarine has destroyed several targets in Syria with a barrage of Kalibr cruise missiles, the Russian Defense Ministry reported. The missiles hit the assets of jihadists, who attacked a unit of Russian Military Police earlier this week, it said.
The 'Veliky Novgorod' attack submarine of the Varshavyanka class (designated "Improved Kilo" by NATO) fired the missiles on Friday from the Mediterranean Sea, the ministry said in a statement. The barrage targeted command points, training camps and military hardware of a terrorist group based in the Idlib governorate, which had earlier attacked Russian troops stationed in the neighboring Hama governorate, it said.
The attack started on Tuesday morning, with incoming fire from territory controlled by various militant groups opposing the government of Syria. Russia said it was conducted by the group previously known as Al-Nusra Front and was aimed at capturing three dozen Russian Military Police troops, who were deployed north-west of the city of Hama to monitor a ceasefire in the area.
READ MORE: US security services behind Al Nusra offensive in Syria's Idlib – Russian MoD
Russian and Syrian troops managed to break through the militants encircling the position of the unit and rescue the Russian troops as well as fighters of the local militias, who were helping them.
Idlib governorate in western Syria is covered by one of four designated de-escalation zones and is controlled by a number of militant groups opposing the government of Syrian President Bashar Assad. According to media reports, over the past several months hardcore Islamist elements there have been seizing power and territory from the so-called moderates.
The offensive against Syrian and Russian forces this week, the biggest since March, appears to be the result of this consolidation. A group called Tahrir al-Sham, an alliance of jihadists, which includes the hardline core of what used to be Al-Nusra Front, led the attack.
Turkey, Russia's partner in the de-escalation plan and a nation with influence on some of the militants in Idlib governorate, said it will deploy troops there, Reuters reported on Thursday.
Syrian government forces supported by Russian warplanes have lately gained ground in the eastern Deir ez-Zor province, previously mostly held by the terrorist group Islamic State (IS, formerly ISIS/ISIL). The Russian military believe the offensive in Idlib was meant to undermine the operation against IS and have blamed US special forces for triggering the attack, an accusation that Washington denied.
You can share this story on social media: