850 jihadists killed as Russian warplanes help Syrian Army repel Idlib offensive – Moscow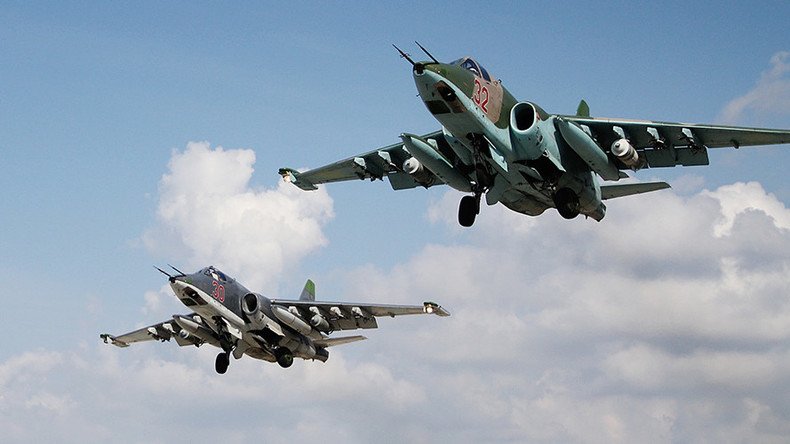 Russian warplanes and Syrian forces have repelled an offensive by jihadists in a de-escalation zone in Idlib governorate in Syria. The forces killed some 850 militants and destroyed 11 tanks and other assets, Russia's General Staff reported.
The offensive was launched by the militant group formerly called Al-Nusra Front and its allies on Tuesday morning, a statement from the General Staff said.
The jihadists attacked the positions of government forces stationed to the north and northeast of the city of Hama. The positions are part of a designated de-escalation zone, which covers Idlib governorate, the powerbase of a number of anti-government armed groups in Syria, the Russian military said.
The report accused US security services of instigating the offensive, which, the statement said, is meant to derail the successful operation of Damascus forces east of Deir ez-Zor.
The Russian General Staff said the militants tried to capture a unit of the Russian military police, which have a mandate to monitor the ceasefire in the Idlib de-escalation zone. The unit was forced to fight against a larger enemy presence for several hours, but prevailed thanks to the support of a local militia.
The Russian command in Syria ordered an operation to repel the militants' assault, including airstrikes and a ground offensive conducted by the military police and special operations forces, General Sergey Rudskoy, spokesman for the Russian General Staff, added in the statement.
The Russian unit was successfully rescued. Three troops from the special operations forces were injured, but the Russian forces suffered no fatalities, Rudskoy said.
The General Staff said the jihadist offensive had been stopped. The militants' estimated losses include some 850 fighters, 11 tanks, three infantry fighting vehicles, 46 armed pickup trucks, five mortars, 20 freighter trucks and 38 ammo supply points.
The statement says Syrian government forces supported by Russian warplanes launched a counteroffensive and recaptured territories previously seized by the jihadists.
You can share this story on social media: