Poland and NATO reply to Russia's Zapad 2017 with larger military exercise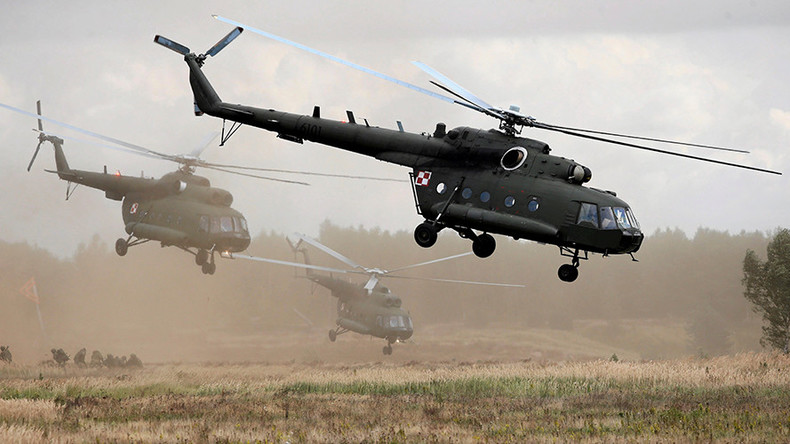 Polish and NATO troops kicked off a massive exercise in northern Poland on Wednesday. The drills will involve more manpower and hardware than the joint Russia-Belarus Zapad 2017 maneuvers, which caused hysteria in the West.
The Dragon 17 exercises involve around 17,000 servicemen and 3,500 units of equipment, the Polish Defense Ministry said.
In comparison, the Zapad 2017 drills, which were conducted for one week in Belarus and Russia, involved 12,700 troops – 7,200 Belarusians and 5,500 Russians – and 70 military aircraft, 10 ships, and 680 land vehicles.
The Dragon 17 wargames were launched in Zegrze near Warsaw the same day that Zapad 2017 concluded, and will run until September 29.
Despite being a national exercise, the Polish authorities invited troops from NATO member states – the US, UK, Germany, Lithuania, Latvia, Slovakia, Italy, Bulgaria, Romania, as well as Georgia and Ukraine, which are seeking to join the bloc – to take part.
The drills will also see Poland's new Territorial Defense Forces, which prepare civilians to assist the military, participating for the first time.
Polish Deputy Defense Minister Michal Dworczyk told Radio Poland that the drills were aimed at testing cooperation between the Polish military and NATO forces deployed in the country in response to what the West calls the "Russian threat."
"The scenario assumes that one of the neighboring states intends to access resources on the territory of our country. There is an attempt to destabilize the political situation, violate the work of state administration bodies and local authorities. The attempt to seize the territory is made through a hybrid action," Dworczyk said.
All branches of the armed forces will be involved in Dragon 17, which will be carried out in coordination with the Navy and Air Force.
The Polish exercise is not the only largescale drill organized near the borders of Russia.
NATO also launched massive parallel drills in Sweden – the largest in the country in 23 years – with around 20,000 troops taking part.
READ MORE: Sweden, NATO allies launch biggest military exercise in 23yrs amid 'Russian threat'
Moscow faced a wave of harsh accusations over the Zapad 2017 drills, with Western outlets and politicians exaggerating the number of participating troops and even suggesting that the maneuvers could be a cover for a Russian invasion of one of the neighboring states.
The exercises – which were monitored by 90 foreign observers – concluded, proving that the claims were groundless.
READ MORE: US Army tanks damaged in Poland after failing to pass under train station roof (PHOTOS)
On Thursday, the Russian Defense Ministry said that the country's troops have begun withdrawing from Belarus, following the maneuvers.
Moscow repeatedly stated that the Zapad 2017 drills were defensive in nature and aimed at testing cooperation between the militaries of Russia and Belarus.
You can share this story on social media: