US Army tanks damaged in Poland after failing to pass under train station roof (PHOTOS)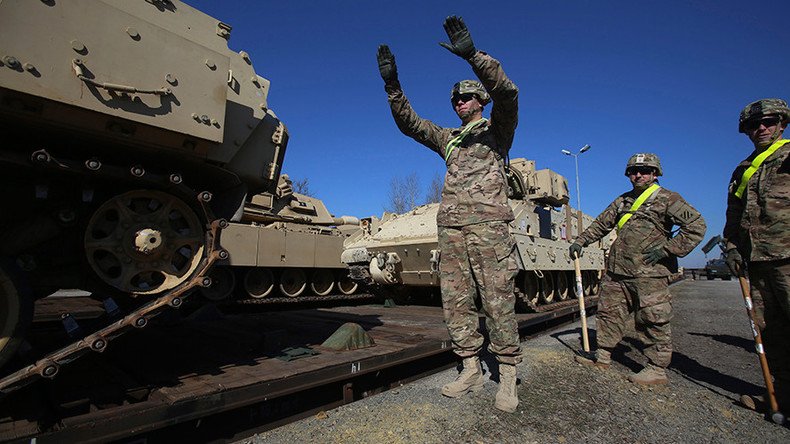 Ten American tanks were damaged while being transported by rail from the Polish city of Gdansk to a training ground after failing to fit under a train station roof, RMF 24 reported.
A total of 37 tanks were being taken from Gdansk to a training ground in Zagan, according to the Polish media outlet. However, 10 were damaged in transit after they did not fit under the roof at a station in Kowalewo Pomorskie.
"As a result of being hooked up to the train's light, 10 of the 37 vehicles being transported – combat vehicles and skeletons – were damaged," said Jaroslaw Wisniewski, a press officer for the police headquarters in Golub-Dobrzyn.
The police confirmed that the tanks belong to the US Army.
Wisniewski noted that "police officers checked the driver's sobriety and all crew members. They were sober," adding that "no one was injured" at the train station.
A probe has been launched by Poland's Commission for Railway Accident Investigation.
US tanks, combat vehicles and other military equipment arrived in Gdansk as part of NATO's Operation Atlantic Resolve earlier this month, an exercise aimed at boosting the alliance's military presence in Eastern Europe.
The operation was launched in April 2014 following the reunification of the Crimean Republic with Russia following a referendum, which the US and other Western countries refer to as an "annexation."
Russia has criticized the buildup of NATO forces near its borders, as well as the alliance's fortification of naval positions in the Black Sea, saying the actions increase the risk of incidents and pose a threat to Russia's national security.
However, NATO drills continue to take place near Russia, including a Black Sea exercise in Ukraine in July, which involved British and Turkish military vessels. Those drills followed large-scale Sea Breeze war games in the same area.
Some 5,300 troops from 10 NATO countries also took part in the Iron Wolf military drills in Lithuania in July, aiming to counter the so-called "Russian threat." Part of the exercise took place on a patch of land in the Suwalki Gap, which borders the Russian exclave of Kaliningrad.
Despite NATO's massive exercises on Russia's doorstep, the alliance remains intent on criticizing Moscow for its much smaller Zapad war games, which it launched with Belarus last week.
NATO's head accused Russia earlier this month of blocking the alliance from properly observing the exercise, saying that an offer for three of its experts to attend the drill did not meet the Kremlin's international obligations under the Vienna document on military exercise transparency.
READ MORE: Facts vs hysteria: What you need to know about Zapad 2017 drills
Russia stressed that only 12,700 troops would be taking part in the war games, which falls under the 13,000 threshold for mandatory monitoring under the Vienna agreement.
NATO, however, stated – without evidence – that it believed more troops would be involved. The alliance has also voiced suspicion that the Zapad war games could be used to move forces and equipment closer to NATO's eastern flank – a suggestion which both Russia and Belarus have denied.
Moscow maintains that the Zapad drills are entirely defensive in nature and assist in preparing for terrorist threats in the future.
You can share this story on social media: