Iraq launches offensive to retake ISIS stronghold Hawija near Kirkuk
Published time: 21 Sep, 2017 12:38
Edited time: 22 Sep, 2017 08:29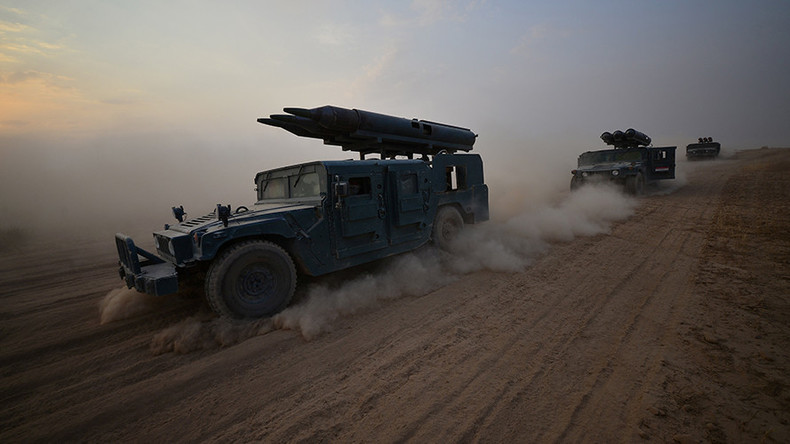 Iraq has launched an offensive against Islamic State (IS, formerly ISIS/ISIL) in Hawija, Kirkuk province, according to the country's prime minister. The territory is one of the last areas still controlled by the militant group.
"At the dawn of a new day, we announce the launch of the first stage of the liberation of Hawija, in accordance with our commitment to our people to liberate all Iraqi territory and eradicate groups that support terror," Prime Minister Haider al-Abadi said in a Thursday statement, as quoted by AFP.
READ MORE: Iraq plans to deport wives & children of Islamic State extremists – report
The Iraqi Army, Federal Police, Rapid Response, and the mainly Shiite Hashd al-Shaabi are taking part in the operation, according to Rudaw. The US-led coalition is providing air support to Iraqi forces, Iraqi state TV reported, as cited by NRT.
Iraq's Joint Operations Command also announced the operation, according to Rudaw.
The operation was confirmed by US Army Colonel Ryan Dillon, spokesperson for Operation Inherent Resolve (OIR) - the US-led coalition against IS. He warned that the extremist group "now faces the might of the ISF (Iraqi Security Forces)."
Dillon also tweeted on Wednesday that the Iraqi Air Force had dropped leaflets in the area, urging IS to surrender and providing safety instructions for civilians.
Iraqi Air Force dropped 3million leaflets in Hawija/Sharqat/elsewhere: Urging #ISIS surrender & providing safety instructions for civilians

— OIR Spokesman (@OIRSpox) September 20, 2017
The US-led coalition has estimated that there are fewer than 1,000 fighters remaining in the Hawija area.
Hawija, located 150 miles (240 kilometers) north of Baghdad, is one of the last territories still held by IS extremists, by whom it was captured in June 2014 along with about one-third of the country. The city has a population of about 245,000 and is a mostly Sunni Muslim-inhabited district.
Announcement of the operation comes after Iraqi and coalition planes stepped up airstrikes on Hawija earlier this month, targeting IS bases and weapons facilities.
The Iraqi ambassador to Russia, Haidar Mansour Hadi, had previously expressed optimism about eradicating IS from the country, telling RT in late August that Iraq is "at the very final stages or chapters of closing the terrorism page."
On Sunday, a US-led coalition base in Hawija was attacked by suicide bombers. However, all of the perpetrators were killed before carrying out their mission, and no Iraqi or international personnel were hurt, according to Dillon.