'Total devastation': Hurricane Maria brings high winds and flooding to Puerto Rico (IMAGES, VIDEO)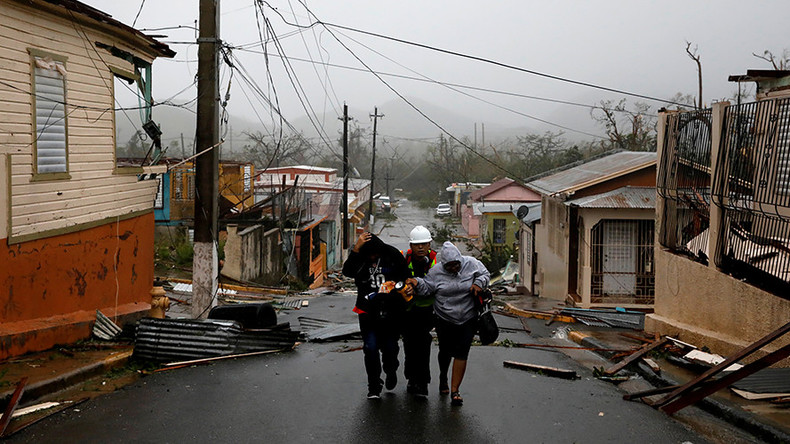 Hurricane Maria has continued its trail of destruction in the Caribbean with Puerto Rico the latest island to feel the force of the storm's 155mph winds.
The Category Four storm, which claimed the lives of seven people on neighboring Dominica and two on the French island of Guadeloupe, made landfall near the city of Yabucoa on Wednesday morning, forcing at least 11,000 people into shelters.
"This is total devastation," a spokesman for Puerto Rico Governor Ricardo Rossello said. "In terms of the infrastructure, it will not be the same … This is something of historic proportions."
In footage posted to Twitter, flooding appears widespread as heavy rain and high winds can be seen pummeling the island's communities.
Catastrophic flash flooding is occurring over portions of Puerto Rico and conditions are deteriorating over eastern Dominican Republic, according to the US National Hurricane Center.
Puerto Rico, home to 3.5 million residents, has been left without power. Communications have also been lost with several emergency management outposts, according to emergency officials.
Speaking at press briefing, Abner Gomez, head of the disaster management agency, said the hurricane had damaged "everything in its path."
"The information we received is not encouraging," Gomez said.
Meanwhile, Puerto Rico Governor Ricardo Rossello has asked US President Donald Trump to declare the US territory a disaster zone.
On Monday, the White House declared an emergency in Puerto Rico, but a disaster declaration would increase federal assistance to the already heavily indebted region.
Hurricane Maria is expected to dump up to 128 inches of rain on Puerto Rico before heading toward the Dominican Republic on Wednesday night. It will hit Turks and Caicos as well as the southeastern Bahamas on Thursday evening, according to the National Hurricane Center.