'Shames us all': 152mn children in forced labor, 40mn people in slavery – study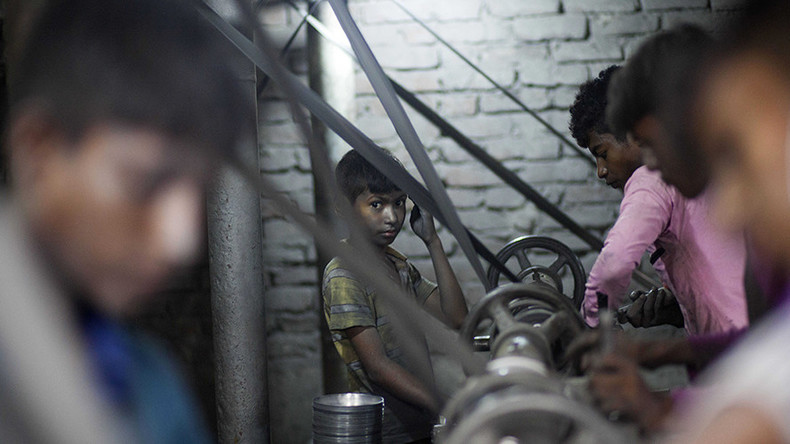 At least 40 million people across the globe live in modern slavery, while 152 million children from 5 to 17 years old are currently involved in child labor, a new report reveals.
"The fact that as a society we still have 40 million people in modern slavery, on any given day shames us all," said Andrew Forrest AO, chairman and founder of the Walk Free Foundation which, along with the International Labour Organization (ILO), contributed to the report.
Women and girls "are disproportionately affected by modern slavery," representing almost 29 million, or 71 percent of the overall total, the report says, adding that slavery is not "merely a historical relic."
Women represent at least 99 percent of the victims of "forced labor in the commercial sex industry" and 84 percent of forced marriages, the report says. About 37 percent (or 5.7 million) of those who were forced to marry were children.
"Amongst the child victims, 44 percent were forced to marry before the age of 15. The youngest victim in the sample was 9 when she was forced to marry," the document says.
Around 89 million people have experienced some form of modern slavery in the last five years, Forrest said.
At least 152 million (or 1 in 10) children around the world have been subjected to child labor, the ILO said.
"One in four victims of modern slavery in 2016 were children below the age of 18 years," the paper said.
Less than half of all children subjected to child labor – 72.5 million – "are performing hazardous work that places their health, safety or moral development at risk."
Child labor is widespread in countries hit by conflict and disasters, according to the ILO.
"These fragile situations often involve income shocks, a breakdown in support networks, displacement and disruptions in basic services, all of which can heighten the risk of child labor," the organization states.
"This speaks to the deep seated discrimination and inequalities in our world today, coupled with a shocking tolerance of exploitation. This has to stop. We all have a role to play in changing this reality – business, government, civil society, every one of us," Andrew Forrest said.