'We need negotiations, not declarations': Russia stays away from Trump's UN reform plan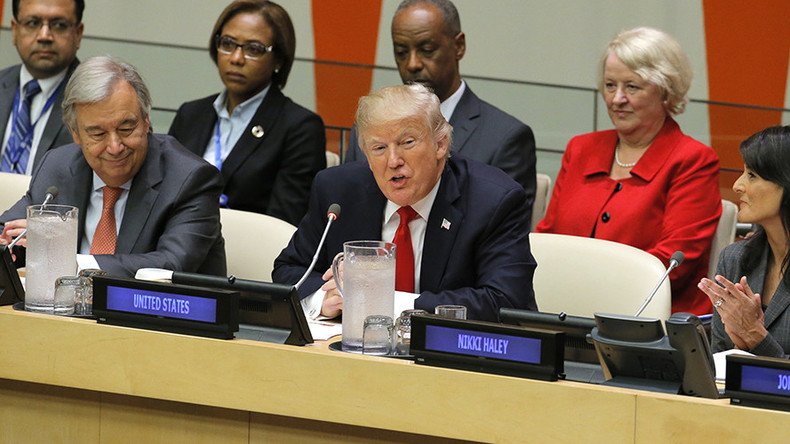 As US President Donald Trump officially launched his 10-point reform program for the United Nations, Russian officials say they share many of the concerns it raises, but not the methods Washington is using to advance its solutions.
On Monday morning in New York, UN Secretary-General Antonio Guterres and Trump delivered speeches in support of the reform declaration, which has been endorsed by 128 states.
According to the published text of the plan, it would give Guterres greater executive powers "encouraging him to lead organizational reform," which would "provide greater transparency and predictability" and "promote gender parity and geographic diversity," while combating "mandate duplication, redundancy, and overlap" and other forms of inefficiency at the international body.
"In recent years, the United Nations has not reached its full potential because of bureaucracy and mismanagement. While the United Nations on a regular budget has increased by 140 percent, and its staff has more than doubled since 2000, we are not seeing the results in line with this investment," said Trump, who previously emphasized that the US is the biggest contributor to United Nations funds.
"To serve the people we support and the people who support us, we must be nimble and effective, flexible and efficient," declared Guterres, the former Prime Minister of Portugal, who assumed his current post this year.
Countries that were hesitant or unwilling to sign the document – which include Russia, China, Brazil and South Africa – were not invited to the launch.
"There was no consultation either prior or following the publication of the declaration," said Vassily Nebenzia, Russia's envoy to the UN, in an interview with TASS news agency, published Monday. "We are all for increasing the role of the UN on the international arena, and raising its efficiency. The organization needs reform, even if not a fundamental overhaul. But the reform itself should not come through a declaration, but through inter-governmental negotiations between members."
State-owned daily Rossiyskaya Gazeta cited officials in the Russian delegation in New York, who criticized the US for hijacking the ongoing UN General Assembly for its own purposes, noting that the declaration "had nothing to do with the United Nations" and that Washington "has developed a bad habit of using the UN building during General Assemblies to push its own foreign policy agenda."
Some were altogether suspicious of Trump's motives, considering his previously dismissive attitude to the UN.
"Trump's reform is a landmark move towards a unipolar world, and the reduction of the role of the UN in the international architecture that is forming in the 21st century. We are not ready to support or participate in this process," Leonid Slutsky, the Chairman of the Committee on International Affairs in the Russian parliament, told RIA news agency.
"The US should start not with behind-the-scenes coalition-forming," wrote Konstantin Kosachev, who heads in the Foreign Affairs Committee in the upper chamber of the Russian parliament, the Federation Council, on his Facebook page. "Instead, it should begin by acknowledging its mistakes, when it bypassed the UN in Yugoslavia, Iraq, Libya and Syria."
You can share this story on social media: