Iran will react strongly to any 'wrong move' by US over nuclear deal - Supreme Leader Khamenei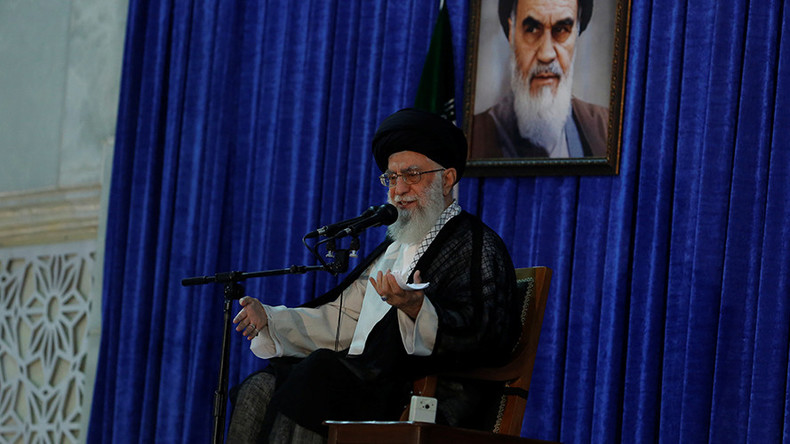 The Supreme Leader of Iran, Ayatollah Ali Khamenei, has warned the United States that Iran won't be bullied over the 2015 nuclear deal that President Donald Trump has threatened to scrap.
Speaking at a speech to Iranian military academy graduates, Khamenei warned that Iran will react strongly to any "wrong move" which threatens to undermine the Joint Comprehensive Plan of Action (JCPOA), or the "Iran deal" as it is known.
"The Iranian nation is standing firm and any wrong move by the domineering regime regarding the (nuclear accord) will face the reaction of the Islamic Republic," Khamenei said, according to Reuters.
The comments come just days after Trump accused Iran of violating the "spirit" of the pact.
"They have violated so many different elements, but they've also violated the spirit of that deal. And you will see what we'll be doing in October. It will be very evident," Trump said, echoing previous negative statements he has made about the agreement.
In a month's time, Trump must decide whether to certify that Iran is complying with the JCPOA. If he decides that Tehran is not, Congress could vote to reimpose sanctions on Iran.
Trump previously described the agreement, which was struck during Obama's presidency, as "the worst deal ever."
Khamenei slammed America's stance, describing it as "bullying".
READ MORE: Trump proven wrong: Iran complying with nuclear deal, UN watchdog says
"Today, despite all the commitments and discussions in the negotiations, America's attitude toward these negotiations and their outcome is completely unjust and amounts to bullying," he said.
"The Americans should know that the Iranian people will stand firm on their honorable positions and on important issues related to national interests, there will be no retreat by the Islamic Republic."
On Thursday, the US Treasury Department imposed financial penalties against 11 individuals and companies accused of aiding Iran's nuclear activities. The UN watchdog monitoring Iran's nuclear activities recently confirmed the country is fully complying with the accord.