'I was just doing my job': Soviet officer who averted nuclear war dies at age 77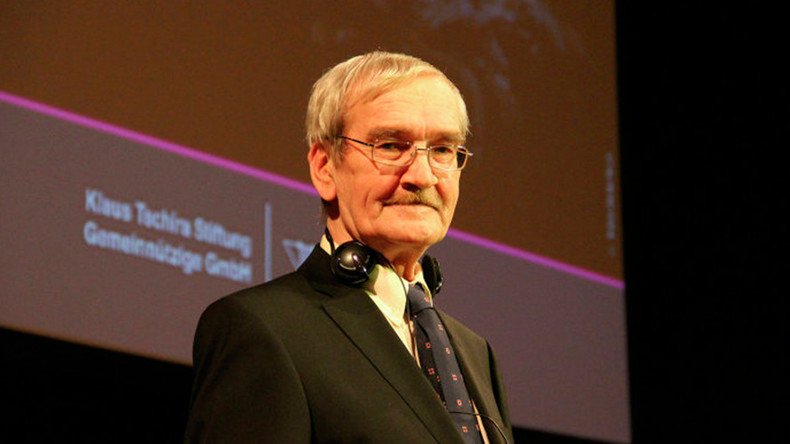 A Soviet officer who prevented a nuclear crisis between the US and the USSR and possible World War III in the 1980s has quietly passed away. He was 77. In 2010 RT spoke to Stanislav Petrov, who never considered himself a hero. We look at the life of the man who saved the world.
A decision that Soviet lieutenant colonel Stanislav Petrov once took went down in history as one that stopped the Cold War from turning into nuclear Armageddon, largely thanks to Karl Schumacher, a political activist from Germany who helped the news of his heroism first reach a western audience nearly two decades ago.
On September 7, Schumacher, who kept in touch with Petrov in the intervening years, phoned him to wish him a happy birthday, but instead learned from Petrov's son, Dmitry, that the retired officer had died on May 19 in his home in a small town near Moscow.
READ MORE: Another day the world almost ended
On September 26, 1983, Stanislav Petrov was on duty in charge of an early warning radar system in a bunker near Moscow, when just past midnight he saw the radar screen showing a single missile inbound from the United States and headed toward the Soviet Union.
"When I first saw the alert message, I got up from my chair. All my subordinates were confused, so I started shouting orders at them to avoid panic. I knew my decision would have a lot of consequences," Petrov recalled of that fateful night in an interview with RT in 2010.
"The siren went off for a second time. Giant blood-red letters appeared on our main screen, saying START. It said that four more missiles had been launched," he said. From the moment the warheads had taken off, there was only half an hour for the Kremlin to decide on whether to push the red button in retaliation and just 15 minutes for Petrov to determine whether the threat was real and report to his commanders.
"My cozy armchair felt like a red-hot frying pan and my legs went limp. I felt like I couldn't even stand up. That's how nervous I was when I was taking this decision," he told RT.
Taught that in case of a real attack the US would have gone on an all-out offensive, Petrov told his bosses the alarm must have been caused by a system malfunction.
"I'll admit it, I was scared. I knew the level of responsibility at my fingertips," he said.
It was later revealed that what the Soviet satellites took for missiles launch was sunlight reflected from clouds. Petrov's action, however, received no praise, and he was scolded for not filling in a service journal. His superiors were blamed for the system's flaws. "My superiors were getting the blame and they did not want to recognize that anyone did any good, but instead chose to spread the blame."
For over 10 years, the incident was kept secret as highly classified. Even Petrov's wife, Raisa, who died in 1997, didn't know anything of the role her husband played in averting nuclear war.
That was until 1998, when Petrov's superintendent, Colonel General Yury Votintsev, spoke out and a report about the officer's quiet deed appeared in the German tabloid Bild.
"After reading this report, I was as if struck by thunder," Karl Schumacher wrote in his blog.
"I could not get rid of the idea that I had to do something for the man who prevented an atomic war and thus saved the world," says Schumacher, for whom "nuclear threat was so real for decades."
Schumacher flew to Russia to find the man who saved the world, and found him living in a flat in Fryazino, northeast of Moscow. Schumacher invited Petrov to the German town of Oberhausen, so that locals would find out about the episode of when the world was teetering on the edge of nuclear catastrophe.
During his stay in Germany, Petrov appeared on local TV and gave interviews to several daily newspapers. Global recognition followed that trip, with major awards presented to him. In 2006, the Association of World Citizens handed him an award, which reads: "To the man who averted nuclear war," in the UN headquarters in New York.
In 2012, Petrov was honored with the German Media Prize, also awarded to Nelson Mandela, Dalai Lama and Kofi Annan. Next year he received another accolade, the Dresden Peace Prize, with the prize given by a 25-year-old Dresden resident, who "belongs to the generation that would not have survived had it not been for Stanislav Petrov."
Based on his story, the movie "The man who saved the world" premiered in 2014, featuring actor Kevin Costner. The actor sent Petrov $500 as a "thank you" for making the right decision.
"At first when people started telling me that these TV reports had started calling me a hero, I was surprised. I never thought of myself as one – after all, I was literally just doing my job," Petrov said.
You can share this story on social media: