Soviet officer who 'saved the world from WWIII' gets Dresden Peace Prize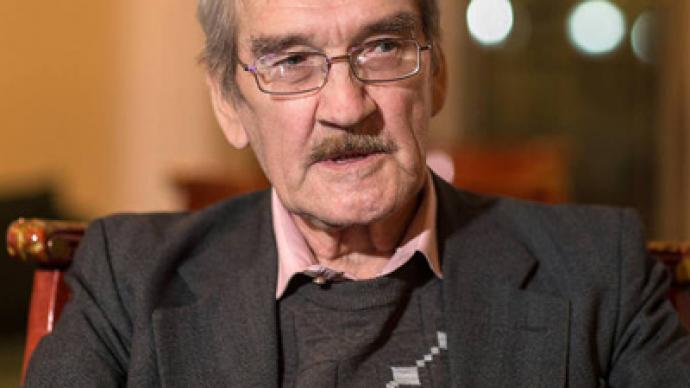 The international reward has found retired Soviet officer Stanislav Petrov, who averted a nuclear war in 1983 by telling his superiors not to press the red button.
Not only do classified documents contain secrets, they can also tell stories of unrecognized heroes. A small episode in Soviet history, that could have changed the world forever, has recently been revealed and acknowledged internationally, with recognition finding a previously unknown Russian awarded in Germany's Dresden.On September 26th, 1983, then-Soviet Lieutenant-Colonel Stanislav Petrov was on duty at an early-warning anti-nuclear center in the Moscow Region, when an alarm warning of incoming missile attack from the USA suddenly went off.Petrov, who, amid mounting Cold War tensions, saw several ballistic missiles launched towards the USSR on his radar screen, was responsible for taking decisions on the spot, and had to report to his superiors immediately.What he then told them might have caused the Soviet retaliation and unleashed World War III. But it didn't – because Petrov decided it must have been a false alarm due to some system flaw. The couner-strike was eventually called off.It later proved to be a technical failure of Soviet satellites that interpreted sunlight reflected from clouds as rockets fired from a US base. But instead of praise for making the right decision, Petrov's base took part of the blame for not developing the system properly.It was only after the case was disclosed in 1998 that the Russian gained hero status across the globe – something the retired officer living a modest life near Moscow is very reluctant to accept."At first when people started telling me that these TV reports had started calling me a hero, I was surprised. I never thought of myself as one – after all, I was literally just doing my job," Petrov told RT after he picked up a major humanitarian accolade, the 2011 German Media Prize, for preventing possible catastrophic all-out conflict.By that time Petrov had also received another award from the Association of World Citizens in the UN headquarters in New York.Now, almost thirty years after the episode took place, the founding fathers of the Dresden Peace Prize have also decided to honor Petrov with an award, calling his decision "historic.""We believe that the heroic deed of Stanislav Petrov will go down in history as one of the most significant events of the past few decades that contributed to the preservation of peace. Our prize is given for averting a conflict, not for its settlement, and Mr. Petrov averted a third world war – hence he is worthy of this award," Heidrun Hannusch, Director General of Friends of Dresden Deutschland E. V. and one of the event organizers said.The awarding ceremony was symbolically held in Dresden Opera Theatre, with the prize giver being a 25-year-old resident of Dresden, who "belongs to the generation that would not have survived had it not been for Stanislav Petrov."The awards put the 73-year-old Petrov in the company of Mikhail Gorbachev, Nelson Mandela, Kofi Annan, and the Dalai Lama, with international organizations stressing how important it is that a nuclear disaster should never happen.
You can share this story on social media: