Police march through Paris to protest poor working conditions (PHOTOS, VIDEO)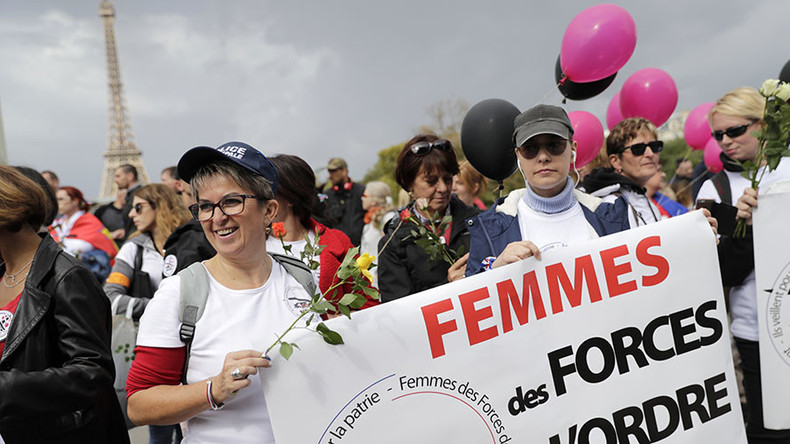 Hundreds of police officers and their supporters have marched through the streets of Paris in protest over their working conditions and lack of resources.
The protest Saturday brought together three groups: the Union of Independent National Police (UPNI), the Mobilization of the Angry Police (MPC) and the Angry Women of the Police (FFOC). Officers were joined by their wives, husbands and partners.
The protesters were demonstrating against a lack of resources and vehicles, an indifferent hierarchy, as well as poor and unhygienic conditions at police stations. In August, a picture contest organized by the UPNI revealed shocking images of clogged urinals, mold growing on the walls and rampant cockroach and rat infestations as everyday realities at some station houses.
READ MORE:Naked guitarist seizes moment of fame amid violence of Paris labor protest (PHOTOS, VIDEOS)
Unlike other recent protests in Paris which escalated to violence and even rioting, Saturday's police march was peaceful, with demonstrators waving banners, French flags, balloons and even flowers instead of tear gas or fire bombs.
READ MORE: 'We work in fear': 100s of French officers protest violence against police
Similar protests took place late last year following a Molotov cocktail attack in a Paris suburb left four officers injured. In October, hundreds of officers gathered on the Champs-Elysées to protest after a police car was set alight in the troubled Grande Borne housing project injuring four officers, one of them critically.
More protests are planned in Strasbourg, Lille, Bordeaux, Toulouse, Marseille and Lyon.
READ MORE: Teenage protester rescues girl from burning car in Paris riots
Earlier this year, Paris was rocked by violent demonstrations against police brutality following the alleged rape of a 22-year-old black man named Theo during a routine ID check in the northeastern suburb of Aulnay-sous-Bois, as well as the shooting of 56-year-old Shaoyo Liu, sparking protests from the Chinese community. In both cases, protesters accused police of institutionalized racism and unrestrained use of force.