Germany to restrict economic activity with Turkey over imprisoned German citizens – Merkel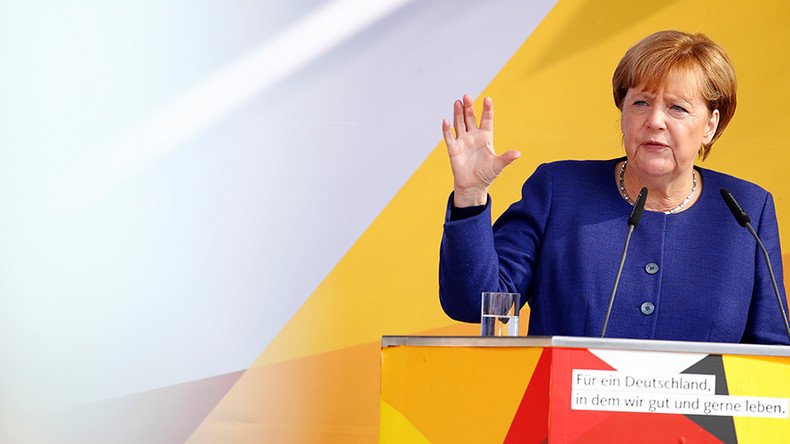 Berlin will be forced to restrict trade with Turkey, and review ongoing projects, in order to press for the release of German citizens detained by Ankara, German media report Chancellor Angela Merkel as saying.
"We will have to reduce our economic cooperation with Turkey and put some projects under review," Merkel told the Passauer Neuen Presse newspaper when asked how she wants to secure the release of Germans detained in Turkey.
The federal government is committed to liberating German citizens in all available ways, Merkel said.
The German chancellor added that breaking off communication with Ankara will "lead to nothing," however.
In early September, two Germans were detained in Turkey.
"We have to assume that the arrests could be politically motivated," Foreign Ministry spokeswoman Maria Adebahr said, as cited by Deutsche Welle.
DW reported that Turkish authorities are currently holding 55 Germans.
Steffen Seibert, spokesman for the chancellor, warned that Germany expects that "German citizens who are imprisoned for incomprehensible reasons be released."
The rift between the two countries has been deepening over the past few months. Following the failed 2016 military coup attempt in Turkey, Ankara accused Berlin of harboring supporters of US-based cleric Fethullah Gülen, who was named by Turkish President Recep Tayyip Erdoğan as the mastermind behind the attempted coup.
It came after Berlin granted asylum to a number of Turkish nationals, who were accused by Ankara of being part of the failed coup attempt in the country in July 2016. Those concerned reportedly hold diplomatic passports and were stationed in NATO facilities in Germany at the time.
Germany, in turn, has repeatedly accused Turkey of disrespecting human rights, demanding the release of German citizens detained by Ankara over alleged "terrorism support" and links with the coup attempt.
The diplomatic row between Germany and Turkey worsened in March after several German states refused to host rallies in support of Turkey's constitutional referendum in April that led to Erdoğan being granted increased powers. The refusal infuriated Erdoğan, who likened it to the policies of Nazi times.
German officials have been up in arms over Turkey's arrest of German citizens, including German-Turkish journalist Deniz Yücel, who has been detained for over 200 days.
Berlin has also pulled out its troops and combat aircraft from Turkey's Incirlik Air Base amid the political row. Previously, Berlin recognized the early-20th-century Armenian massacre in the Ottoman Empire as "genocide."
Tensions could affect campaigning for the federal election in Germany after Erdoğan urged German Turks to boycott the leading parties in the vote on September 24.
Earlier this month the Turkish Foreign Ministry warned citizens to "be careful" in Germany and keep their composure in the face of "racist and xenophobic slurs."
The travel advisory also accused German leaders of employing "anti-Turkish rhetoric" in their election campaigns, and of blocking Turkey's accession into the EU.
Merkel hit back at the Turkish travel warning. "I want to be very clear here: Any Turkish citizen can come and visit us," the chancellor said during a campaign rally in Delbrück.
"No journalists get arrested here and no journalists get put in custody. Freedom of opinion and the rule of law prevail here and we are proud of that," Merkel added.
"Turkey's travel warning against Germany is a bad joke!" Peter Altmaier, head of Merkel's chancellery office, tweeted. "Groundless imprisonment for many Germans is wrong! Nazi comparisons offend our honor!" he added.
Reisewarnung der Türkei gegen D ist ein schlechter Witz!Grundlose Haft für viele Deutsche ist Unrecht!Nazivergleiche verletzen unsere Ehre!

— Peter Altmaier (@peteraltmaier) 10 сентября 2017 г.
Merkel said in early September she would seek an end to Turkey's membership talks with the European Union.
You can share this story on social media: