France vs Germany? Macron says Turkey vital partner in migration crisis amid Ankara-Berlin spat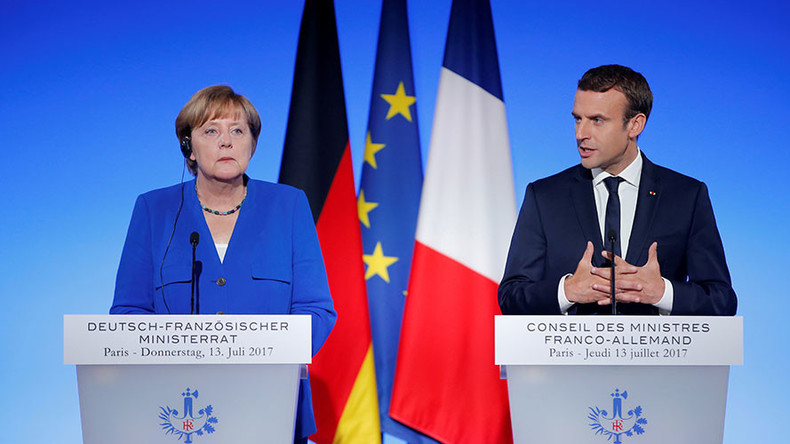 After German Chancellor Angela Merkel's recent call to block Turkey's entry to the EU, Emmanuel Macron has joined a chorus of EU leaders urging more dialogue. Despite its large Turkish diaspora, Germany's relations with Ankara are the most strained in the EU.
In an interview with a Greek newspaper published Thursday, the French president said that Turkey is a crucial partner of the European Union and good relations should be maintained, despite the country straying far from EU norms and standards.
"Turkey has indeed strayed away from the European Union in recent months and worryingly overstepped the mark in ways that cannot be ignored," Macron told Greece's Kathimerini.
"But I want to avoid a split because it's a vital partner in many crises we all face, notably the immigration challenge and the terrorist threat. And I deal with these matters by keeping very regular contact with President Erdogan."
Macron added that cooperation with Turkey was essential to keep the pressure off of Greece, which has faced the brunt of the brunt of the refugee crisis by being on the far-southeastern periphery of the EU and the primary entrance point for asylum seekers trying to reach farther west into the continent. In 2016, Ankara made a deal with Brussels to take in one Syrian refugee for every one taken by the EU, a deal which has significantly slowed the inflow from the Middle East.
Macron's pragmatic approach to Turkey, whilst acknowledging its flaws, seems to differ from that of the other EU heavyweight, German Chancellor Angela Merkel, who in a televised debate on Sunday agreed with her opponent that Ankara had crossed a "red line."
"The fact is clear that Turkey should not become a member of the EU," she said. "I'll speak to my [EU] colleagues to see if we can reach a joint position on this so that we can end these accession talks."
Merkel is currently campaigning for a fourth term as German leader and while her CDU/CSU alliance is still polling ahead of their opponents, the Chancellor's popularity has taken a hit over the last few years as a result of her handling of the migrant and refugee crisis, the biggest to face Europe since the Second World War.
Merkel's call to block Turkey's ascension into the EU drew mixed reactions from other EU leaders, with the Dutch and Austrian foreign ministers supporting the German position but the Finns, Estonians and Lithuanians urging more caution.
"No, we should continue the process and engagement. It's not easy, but we have to value contacts," Lithuanian Foreign Minister Linas Linkevicius told Reuters.
"By stopping, by cutting, we will not make a good thing because we will encourage them even more to go away. I think the effect would be the opposite than what we'd wish."
Turkey threatens to open floodgates
Turkey signed an association agreement with Brussels as long ago as 1963 and began formal talks to join the European bloc in 2005, although negotiations have been beset by issues such as human rights and the question of Cyprus. Relations between Turkey and the EU, especially Germany, severely deteriorated after the failed coup attempt in July last year. Erdogan's government has accused Germany of harboring coup plotters and supporters of exiled cleric Fethullah Gulen, who's been accused by Ankara of being the mastermind behind the mutiny.
Germany is also home to the largest Turkish diaspora in Europe, which has also caused a rift between the two countries as several local authorities moved to ban campaign rallies by the Turkish government to drum up support for a controversial referendum earlier this year. Then-Prime Minister Erdogan accused the German authorities of Nazi-like behavior, prompting a strong backlash in Germany.
The tensions between Turkey and the EU also threatens to exacerbate the refugee crisis. Earlier this year, Turkey threatened to open the floodgates by allowing Syrian refugees to make their way to Europe if the EU does not live up to its side of the agreement. For Germany, which took in 1.1 million refugees in 2015 alone, and hundreds of thousands during 2016, that would represent a severe strain on its society and infrastructure, not to mention other countries which are feeling the burden.
Reacting to the recent statements by Merkel and other aspects of the strained Turkey-EU relationship, Ismail Hakki Musa, Turkey's ambassador to France, said that the European body must make its mind up about whether it wants his country as a member or not.
"Integrating Turkey into the EU is not a Turkish question, but a European question now. Of course, we have the impression of being duped," Reuters quoted Musa as saying.
"They no longer want the marriage they want cohabitation. For a privileged partnership, it's too late and Europe must now be honest and sincere."