N. Korea vows to redouble military strength over 'evil, US-fabricated' sanctions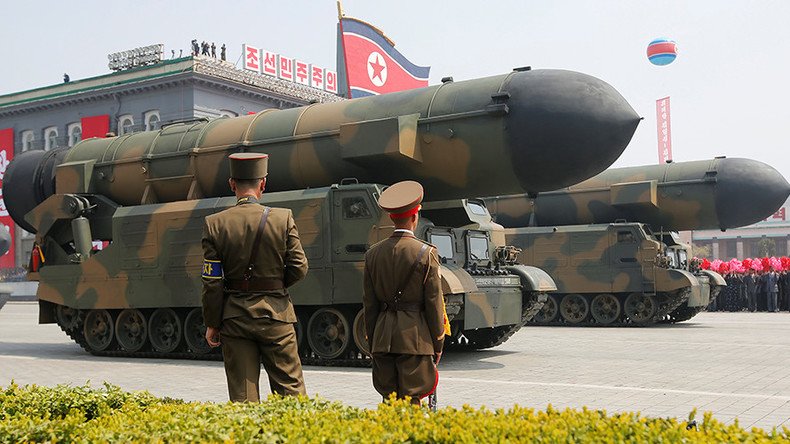 North Korea has vowed to increase its military strength following a new round of "evil" UN sanctions over its recent nuclear test. The resolution, "fabricated by the US," proves that the road Pyongyang has chosen is "absolutely right", the North said.
The United Nations Security Council unanimously approved a new resolution on Monday, banning North Korea's textile exports and capping its oil imports following Pyongyang's nuclear test.
In response, Pyongyang promised to accelerate its weapons program.
"The DPRK will redouble the efforts to increase its strength to safeguard the country's sovereignty and right to existence and to preserve peace and security of the region by establishing a practical equilibrium with the US," a statement from North Korean Foreign Ministry said, as cited by KCNA news agency.
North Korea dubbed the UN resolution "illegal and evil", saying that it was clearly "piloted" and "fabricated" by the United States.
The resolution is "a product of heinous provocation aimed at depriving the DPRK of its legitimate right to self-defense and completely suffocating its state and people through a full-scale economic blockade," the statement went on.
According to the ministry, the resolution "served as an occasion for the DPRK to verify that the road it chose to go down was absolutely right, and to strengthen its resolve to follow this road at a faster pace without the slightest diversion until this fight to the finish is over."
North Korea conducted its sixth nuclear test earlier in September. Pyongyang claimed that it had successfully tested a hydrogen bomb which can be mounted on an intercontinental ballistic missile (ICBM).
Russia has repeatedly said that that it is important to prevent escalation of the crisis on the Korean Peninsula, calling for a diplomatic solution.
In response to the recent UN resolution Russia's Ambassador to the UN Vassily Nebenzia said that Moscow "doesn't accept the North Korean ambition to gain the status of a nuclear power, and has backed all the UNSC resolutions."
However, Russia doubts the sanctions' ability to achieve their stated objective, the Ambassador added, saying that "financial and economic measures of pressure on the DPRK leadership are almost exhausted, and further restrictions can amount to an attempt to strangle the country's economy, impose a total blockade, and provoke a deep humanitarian crisis.
Together with China, Russia has repeatedly proposed a double-freeze plan, in which North Korea suspends its nuclear and ballistic missile tests in exchange for a halt in joint US-South Korea military exercises. However, Washington rejected the plan, saying that it has every right to conduct drills with its long-standing ally.
You can share this story on social media: