Seoul detects radioactive gas from N. Korea nuke test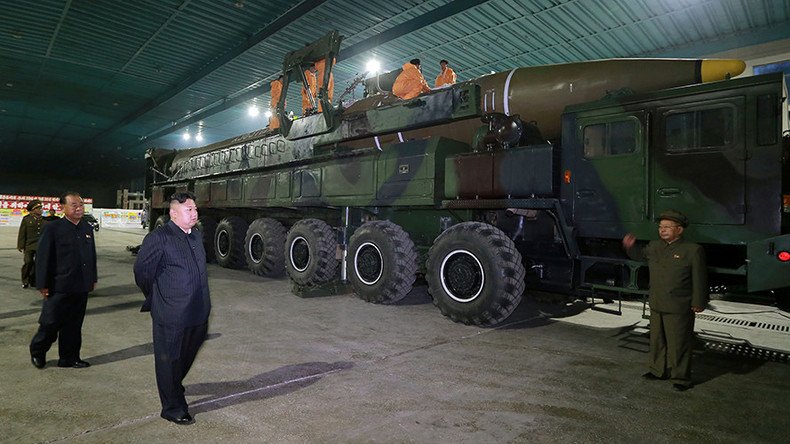 A radioactive gas, xenon-133, has been detected from the recent North Korean nuclear test, the South's nuclear watchdog said, adding that it is still unclear whether it was from a hydrogen bomb test as Pyongyang claimed.
Traces of the xenon isotope were detected in the north-eastern part of the country on nine occasions, the South Korean Nuclear Safety and Security Commission said. The Commission's mobile detectors also found traces of xenon off the country's east coast four times.
"It was difficult to find out how powerful the nuclear test was with the amount of xenon detected, but we can say the xenon was from North Korea," executive commissioner Choi Jongbae told a news conference in Seoul on Wednesday.
Earlier in September Pyongyang claimed that it had successfully tested a hydrogen bomb which can be mounted on an Intercontinental Ballistic Missile (ICBM).
Seoul started collecting radioactive nuclides and increased its radiation monitoring level following Pyongyang's nuclear test, according to numerous reports from the Nuclear Safety and Security Commission.
Xenon was first detected in the sample collected by "the stationery capturing equipment installed on land", the commission's report said September 8. However, at that time it wasn't clear whether the xenon level was linked to the North's test.
The amount of the radioactive gas detected is some 0.43 milibecquerel per cubic meter, the commission said, as cited by Yonhap news agency.
This amount would not have any effects on public health as South Korea's radiation levels remain normal, the commission added.
Xenon, a colorless and odorless gas, occurs naturally and can be found in mineral springs, asteroids and the Earth's atmosphere. It is often used in the manufacture of lighting. However, its isotope xenon-133 does not occur naturally. Small amounts of it is used in medicine for diagnostic inhalation only, according to medical websites.
Exposure can cause nausea, convulsions and a potentially fatal coma, according to the Lantheus medical website. It has been known to cause cancer and adverse reproductive effects.
The test aggravated the already tense situation on the Korean peninsula even further. In response to North Korea's actions, South Korea and the US began discussions on the deployment of an aircraft carrier and strategic bombers in the region.
READ MORE: North Korea sanctions 'nothing compared to what ultimately will have to happen' – Trump
South Korea also immediately held live-fire naval drills involving guided-missile vessels and aimed at preparing to "hit back and bury" the enemy in the event of provocation. The drills involved the 2,500-ton Incheon-class frigate 'Gangwon', a 1,000-ton patrol ship, several 400-ton guided-missile vessels and 130-ton high-speed boats maneuvering in the Sea of Japan (also called the East Sea by South Korea).
In its harshest response yet to North Korea's nuclear tests, US President Donald Trump vowed to use the "full range" of capabilities at his country's disposal, and said the US might resort to using its nuclear arsenal against North Korea if it continues to threaten the US or its allies.
Russia has repeatedly said that that it is important to prevent escalation of the crisis on the Korean Peninsula, calling for a diplomatic solution.
North Korea is "extremely interested in direct dialogue with Washington," Russian Deputy Foreign Minister Sergey Ryabkov told RIA Novosti on Wednesday.
"I am not sure that the US administration has enough political will and determination to enter into such a dialogue," he added.
You can share this story on social media: