Aussie PM defends baby & beer photo after online uproar (PHOTO)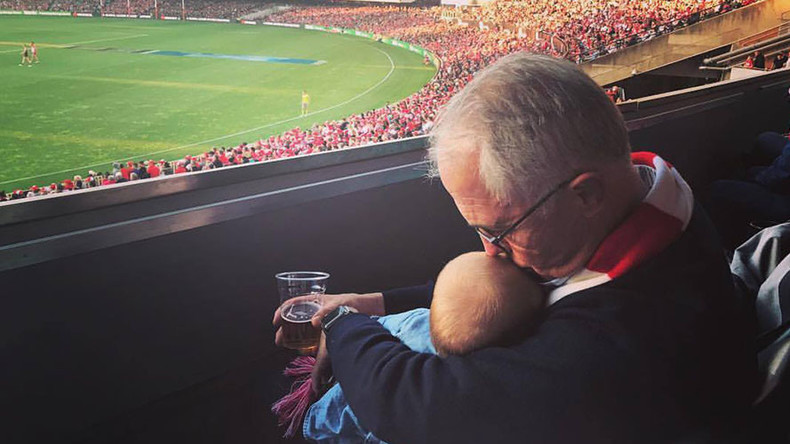 Mixing booze and babies is fine, according to Australian Prime Minister Malcolm Turnbull, who defended a picture posted to his Facebook page showing him enjoying a drink while holding his granddaughter.
"You've just got to be yourself," Turnbull told radio station Triple M.
Playing down reports that members of the public were outraged over the image, the Australian leader added: "I don't think that many were. It's the craziness of social media."
The PM posted the image to Facebook on Saturday, showing him holding a beer while kissing his granddaughter Alice at a Sydney Swans football game. Some commenters were outraged by the image, but surprisingly it wasn't the booze that sparked their anger, instead the fact the PM wasn't at work.
"You wanted the job, get off your butt and try and fix this country. I have always been a liberal supporter, not now. But I'm glad you can afford to go to the football. Most people can't," one commenter said.
Turnbull kissing a baby holding a beer at the footy. Which part did ppl get upset about?

— Asher Wolf (@Asher_Wolf) September 10, 2017
Another called him a "disgrace" saying they "cannot afford to go to the footy let alone turn the TV on or have heating."
Turnbull disregarded the comments, telling Triple M that if you act like anything but yourself "you end up being as crazy as the trolls on Twitter."
Despite some backlash most commenters praised Turnbull's pic, with one saying "Love this photo of our PM being an awesome grandad at the footy. Wish I had one like it of my father with my children."
"Pipe the hell down haters. He's Aussie FFS and it's not like he's Bob Hawking the beers!" another said, referring to former Australian PM Bob Hawke, known for his fondness for beer.