Moscow to bring diplomatic missions in US, Washington's in Russia to parity – Lavrov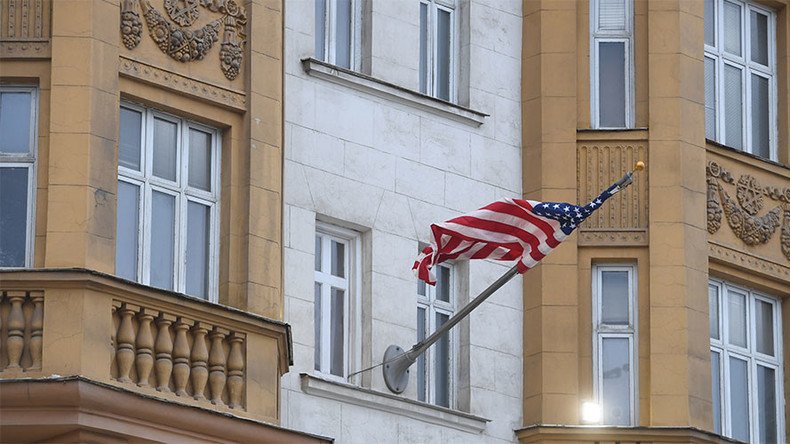 Moscow will bring the terms of work of its diplomatic missions in the US and those of Washington in Russia into "full parity," Russian Foreign Minister Sergey Lavrov announced. The statement comes after the Russian Consulate in San Francisco and two trade missions in Washington, DC, and NYC were forced to close at the end of August.
READ MORE: Diplomatic war: From Obama's expulsion of Russian embassy staff to Trump's closure of SF consulate
Russian authorities, Lavrov said, asked the Americans to make sure the overall number of their diplomatic staff working in Russia equals that of the number of Russian diplomats working in the US.
"But in doing so, we included into that overall number everyone who work at the Russian mission in the UN," Lavrov told reporters at a press conference in Amman, Jordan, on Monday.
"Understandably, this is a separate issue not relating to bilateral [US-Russia] relations.
"Nevertheless, doing so we showed our good will," he continued. "The US has sort of pocketed our kind gesture and said 'If Russians want parity, make them close one of four consulates [in the US] as we have only three consulates in Russia.'"
The US State Department insisted that the move was reciprocal to Moscow's decision to cut the number of American diplomatic staff in Russia.
Lavrov added that Moscow is now looking at conditions under which the American diplomatic missions operate in Russia, and vice versa.
"If the US makes parity a criterion, we will bring those conditions in full accordance with what is called parity," Lavrov said.
Last week, President Vladimir Putin also spoke of disparity between Russia and the US in the number of their diplomatic staff.
"We have agreed with our [American] partners that there should be parity of the number of diplomatic staff in Russia and the United States. There were some 1,300 diplomats from the US; we had 455. We corrected this," Putin told journalists last Tuesday.
"But among those 455 diplomatic staff working in the United States there are 155 people working at the United Nations. Strictly speaking, they are not part of the diplomatic corps accredited by the US State Department," he added.
"So true parity would be the US not having 455 diplomats in Russia, but 155 fewer."
The lingering diplomatic row between Washington and Moscow began back in 2016, when the outgoing Obama administration expelled 35 Russian diplomats and closed two Russian diplomatic compounds in New York and Maryland. Notably, Moscow chose not to retaliate at the time, hoping to mend ties during Donald Trump's presidency.
American lawmakers, however, limited Trump's ability to formulate foreign policy towards Russia by barring him from easing sanctions on Russia without congressional approval.
In July, following the US Congress' approval of new sanctions against Russia, Iran and North Korea in one package, Moscow cut the staff at American missions in Russia by 755 people. This brought the number to the same as Russian diplomatic staff in the US, which is 455 people.
In August, Washington announced in response that US consulates in Russia had halted issuing all non-immigrant visas for Russian citizens until further notice.
On August 31, on the Trump administration cited "the spirit of parity invoked by the Russians" and ordered the Russian Consulate in San Francisco, as well as two trade missions in Washington, DC, and New York City, to close. Moreover, FBI operatives conducted searches at Russia's San Francisco Consulate.
READ MORE: FBI could be planting 'compromising material' during searches of Russian SF Consulate – Zakharova
The Russian Foreign Ministry vehemently opposed the closures, accusing operatives of the US security agencies that entered the Russian Consulate in San Francisco of "behaving like raiders."
"Representatives of the US law enforcement agencies conduct unknown activities on the territory of the Russian Consulate General in San Francisco. They mutilate expensive parquet and do work without permission. Most importantly, nobody knows who these people are, who behave like raiders," the ministry said.
Under the Vienna Convention on Diplomatic Relations, premises of [any] diplomatic or consular mission "shall be inviolable" and "agents of the receiving State may not enter them, except with the consent of the head of the mission."
You can share this story on social media: