FBI could be planting 'compromising material' during searches of Russian SF Consulate – Zakharova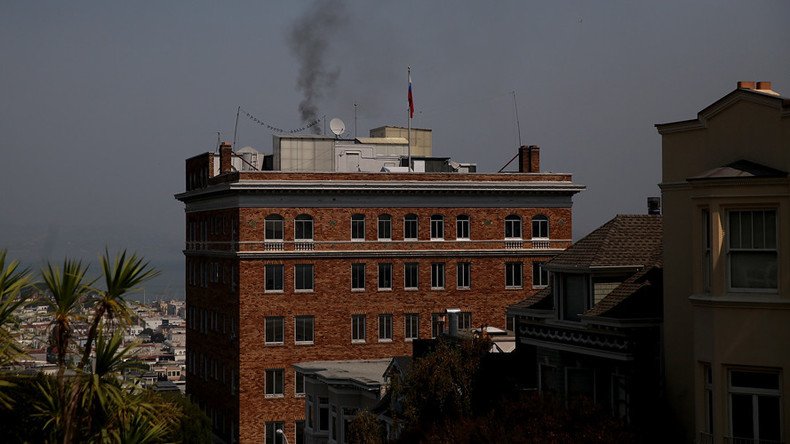 FBI operatives conducting searches at Russia's San Francisco Consulate may be there to craft "a provocation" or plant "compromising materials" targeting Moscow, Foreign Ministry spokeswoman Maria Zakharova said.
Zakharova was commenting on the ongoing searches inside Russian consular premises in San Francisco. Earlier, the consulate had to close on September 2, after Washington had given Moscow two days to do so.
"Is it an attempt by the American security services to organize an anti-Russian provocation and, probably, to plant compromising materials into the building and then somehow find them inside?" Zakharova said during a regular news briefing on Friday.
The spokeswoman said Moscow is totally unaware of what has been happening inside the consulate compound.
"Special equipment has been delivered there and some works are being conducted," she said.
Zakharova also added that according to information obtained by Moscow, the US security services, particularly the FBI, were behind "everything that is happening to Russian diplomats."
The Russian Consulate in San Francisco, as well as two trade missions in Washington, DC, and New York City, were forced to close last week. The State Department maintained the move was reciprocal and came in retaliation to Moscow's decision to significantly cut the number of American diplomatic staff in Russia.
White House spokeswoman Sarah Huckabee Sanders told reporters at the time the decision was taken by President Donald Trump personally.
The spokeswoman said Washington was still determined to mend ties with Moscow. "We want to halt the downward spiral and we want to move forward towards better relations; we look for opportunities to do that, but we also want to have equity in the decisions," she said.
"We're also going to make sure that we make decisions that are best for our country," Sanders told reporters on Thursday.
READ MORE: 'Like raiders': Russian Consulate shows footage of US agents sweeping its SF premises (VIDEO)
Zakharova on Friday argued the raids on Russian diplomatic property in San Francisco would in no way help reconciliation. "Which way the people who we didn't invite there – and who are doing God knows what there – are helping normalize bilateral relations?" she asked.
On Wednesday, she told reporters that US operatives were quite aggressive when entering Russia's Washington trade mission. The agents entered by breaching the door mechanisms, then taking "sizeable boxes of unknown content" into the Russian mission, Zakharova said.
You can share this story on social media: