'Face of death and destruction': Satellite images show eerie 'portrait' of Hurricane Irma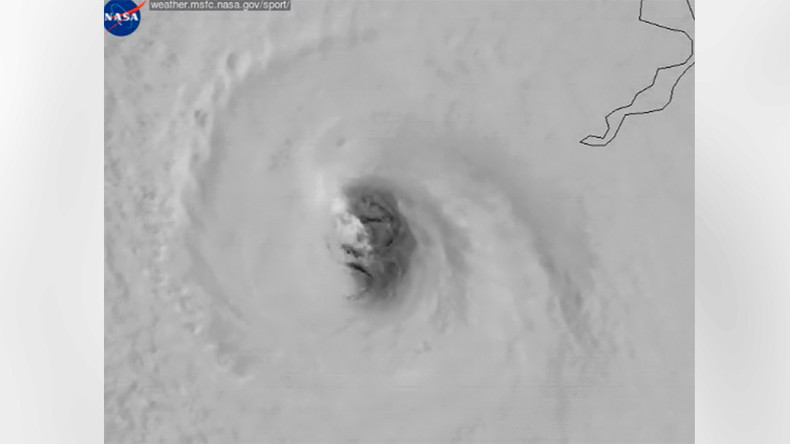 Satellite images have revealed a spooky, face-like formation in the eye of Hurricane Irma as the deadly storm is poised to make landfall in the US.
After roaring its way along the Caribbean leaving a trail of carnage in its wake, the Category 4 hurricane is now set to crash into the coast of Florida, with Governor Rick Scott warning that the state is facing the "most catastrophic" storm it has ever seen.
NASA has been sharing satellite images and timelapse videos as the hurricane hurtled through the Bahamas and Cuba, leaving at least 22 people dead and destroying countless homes, businesses, and even hospitals.
READ MORE: 'Don't shoot at Hurricane Irma': Cops forced to issue warning after idea goes viral
The images convey the immense ferocity of the storm as it barrels along its way, though several social media users have noticed an even more chilling feature in some of the pictures - the appearance of a face.
The 'face' was spotted in footage released by NASA's Short-term Prediction Research and Transition Center (SPoRT) and was also broadcast on CNN.
Twitter user Connie Johnson labelled it "the face of death and destruction," while numerous others shared the image asking if people could see it.
The grey visage wasn't even the only face-like pattern spotted in the satellite images. Weather Channel meteorologist Stu Ostro shared another photo of Irma as it braced to hit Florida, which also had face-like features.
Ostro spotted a similar phenomenon last year when Hurricane Matthew hit the Sunshine State.
As well as the threat from Irma, the Miami-based National Hurricane Center has issued a warning to Floridians over the threat of tornadoes which are sweeping across the south of the state.