8.2 quake triggers tsunami waves off southwest Mexico coast (PHOTOS, VIDEOS)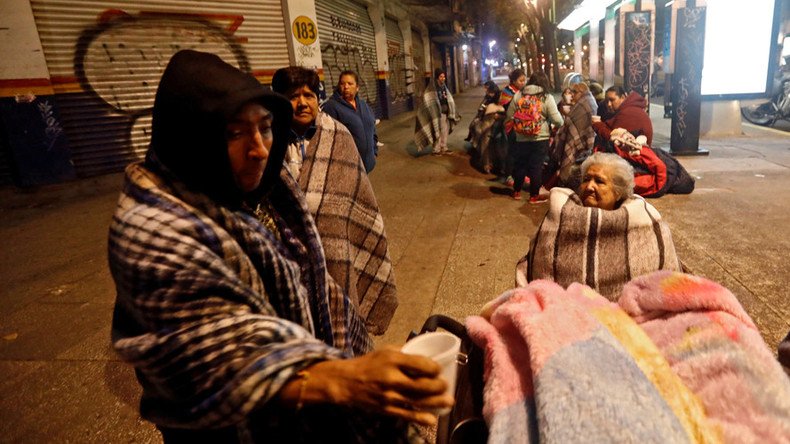 The 8.2-magnitude earthquake that hit Mexico on Friday has triggered 1-meter tsunami waves along the country's coastline. Meanwhile, the death toll in the quake continues to rise, with five people confirmed dead in the disaster.
UPDATE: 'Strongest in 100yrs': Death toll from Mexico quake rises as state of emergency declared
The epicenter of the quake was at a depth of 33 km (21 miles), 123 km (76 miles) southwest of the town of Pijijiapan, not far from the Guatemalan border.
The US Tsunami Warning System said hazardous tsunami waves are likely to follow in eight neighboring countries, including Ecuador, Nicaragua, Panama, Guatemala, Honduras, Mexico, El Salvador, and Costa Rica.
Mexico's President Enrique Pena Nieto said in a televised statement that the 8.2-magnitude quake is the strongest to hit the country in a century.
He confirmed that at least five people have died in the disaster, adding the tremors initially left 1 million Mexicans without power, but the power supply has been restored to 800,000 of them.
Pena Nieto added there have been 62 aftershocks, including one as powerful as 7.2-magnitude.
READ MORE: 7.0 magnitude quake off Central America coast triggers tsunami alert
Pena Nieto said the state of Chiapas declared a state of emergency, adding that the government is keeping an eye on neighboring municipalities affected by the quake, local media report.
Mexican authorities say this was the strongest earthquake in the country since the 1985 quake that killed thousands of people in Mexico City and caused serious damage.
There are also conflicting reports on the number of casualties. Citing a Chiapas civil protection authority, Xinhua reported that seven people had died after homes collapsed. Another two, the agency said, were killed in the nearby state of Tabasco.
The PTWC issued an updated situation report, saying that "Tsunami waves reaching more than 3 meters above the tide level are possible along some coasts of Mexico," and waves reaching up to one meter are expected to hit the coastlines of adjacent countries.
"Persons located in threatened coastal areas should stay alert for information and follow instructions from national and local authorities," the organization said.
Mexican authorities have set up a coordination center to plan for relief efforts.
Photos have emerged online showing the impact of the earthquake in Chiapas, including damage to buildings, roads, and local infrastructure.
People in Mexico City flocked to the streets after the quake struck, an eyewitness told Reuters.
Tremors in Mexico City caused the Angel of Independence historical landmark to swing for several minutes.
An eyewitness uploaded dazzling footage of earthquake lights that appeared in the skies over Mexico City shortly after the quake.
A shopping mall in the Mexican capital nearly collapsed following the tremors.
The shockwaves also affected Chiapas International Airport.
You can share this story on social media: