7.0 magnitude quake off Central America coast triggers tsunami alert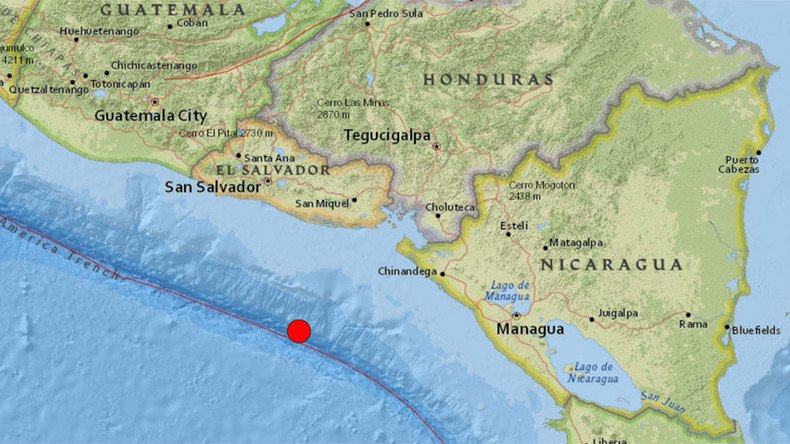 A 7.0 magnitude earthquake struck off the Pacific coast of Central America. It came on the heels of the powerful Hurricane Otto, and was felt in several countries across the region, triggering a brief tsunami warning.
Earlier the US Pacific Tsunami Warning Center issued a tsunami warning.
"Hazardous" tsumani waves were possible within 300km of the quake epicenter along the coasts of Nicaragua, El Salvador and Honduras, the Center specified.
Nicaragua and El Salvador issued their own tsunami warnings in the wake of the earthquake.
There was a threat of waves as high as three meters (six feet) hitting the coast, Lina Pohl, El Salvador's environment minister, said, as cited by AP.
The Pacific Tsunami Warning Center, in turn, warned that waves of up to one meter (three feet) could hit Pacific coastlines.
DATOS FINALES: Sismo mag. 7.2, frente a la costa de Usulután. Prof. 33 km. [2016-11-24, 12:43]

— MARN El Salvador (@MARN_Oficial_SV) November 24, 2016
The quake, initially reported as magnitude 7.2, was registered at a depth of 33km (20 miles), some 154km (96 miles) south-southwest of the Puerto Triunfo municipality in El Salvador, according to The US Geological Survey.
There were no immediate reports of damage in El Salvador, the country's emergency services reported on Twitter.
The earthquake struck just as the category 2 Hurricane Otto descended near the southeastern coast of Nicaragua. Thousands had already been evacuated from coastal areas.
The hurricane brought strong winds of around 175 kilometers (110 miles) per hour and heavy rainfalls, threatening to instigate dangerous floods and mudslides.
Nicaraguan President Daniel Ortega has declared a state of emergency in the country due to the earthquake and the hurricane.
Emergency services ordered communities located along the Pacific coast in El Salvador to evacuate the area.
You can share this story on social media: