Merkel booed, pelted with tomato on campaign trail in eastern Germany (VIDEOS)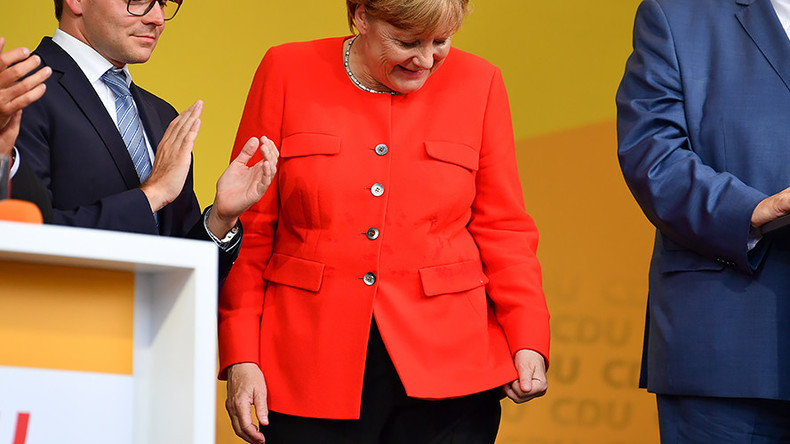 Chancellor Angela Merkel was met with loud boos and calls to "get out" of Germany during her election campaign stops in east German towns of Torgau and Finsterwalde on Wednesday. It comes just a day after she was hit with a tomato at a rally.
Merkel, who is touring Germany as part of her and her center-right Christian Democratic Union (CDU) party reelection bid, is having a rough start in the eastern Germany, where the Chancellor herself grew up.
Her rally in the town of Torgau in Lower Saxony on Wednesday was visited by over a hundred counter-demonstrators from the right-wing Alternative for Germany (AfD) and the far-right National Democratic Party (NPD), who attempted to derail her 30-minute speech focused on tax policy, fight against terrorism and educational. The demonstrators chanted "nation's traitor," "get out," calling to "vote her out."
Merkel seemingly remained unperturbed by the obstruction, instead hailing Germany' democratic standards that allow protesters to voice their opinion, arguing that people in other countries that lack the privilege of the freedom of expression would have been glad "if they could demonstrate under such democratic conditions," as cited by Die Welt.
A similar treatment awaited Merkel in a small town of Finsterwalde in Brandenburg, where she arrived Wednesday evening. Noisy opponents carrying posters reading "fed up","close the borders" and "Banana republic" greeted the German leader with boos while her supporters welcomed her with a round of applause as came on stage.
At a rally in Heidelberg on Tuesday, the Chancellor was grazed by a thrown tomato, though in a usual show of stoicism, did not let it make her lose her cool.
Though her red jacket helped cover up the impact, a juicy stain was still apparent as Merkel stood on stage to join in the national anthem. A moderator at the event, Claudia von Brauchitsch, also appeared to have been hit, as Merkel offered her a tissue. Merkel remained calm throughout her subsequent speech despite booing and calls of "traitor!" from some in the audience.
Later Tuesday, Merkel appeared to give a speech at an auditorium in Stuttgart, seemingly wearing the same jacket. Police meanwhile have launched an investigation into the incident.
Merkel's center-right CDU/CSU alliance is projected to win in the upcoming Bundestag elections, due to be held on September 24, where she is seeking a fourth term as the head of Germany. Despite CDU/CSU's apparent lead, Merkel's popularity has taken a hit over the last few years as a result of her handling of the migrant and refugee crisis, the biggest to face Europe since the Second World War.
You can share this story on social media: