China carries out live-fire exercise fending off 'surprise' overseas attack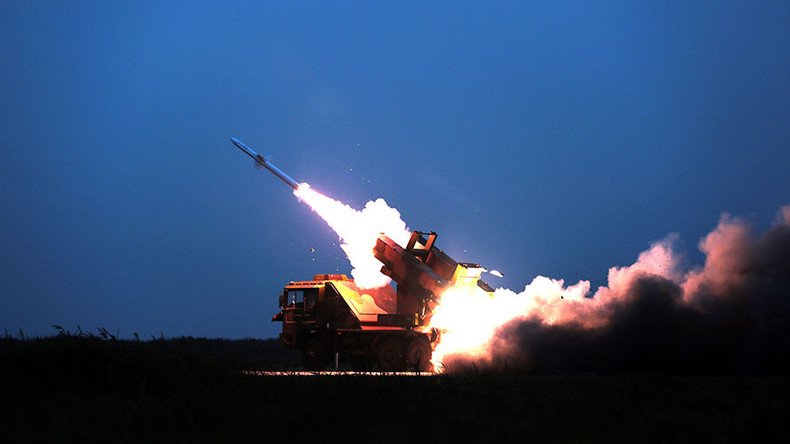 Beijing has deployed its air defense missile weapons systems to fire at simulated surface and air targets at sea, as the Chinese Air Force said its personnel are to be modified to long distance training, having previously concentrated on territorial air defense.
A Chinese air-defense battalion and surface-to-air missile brigade carried out a live-fire exercise near Bohai Bay in east China on Tuesday, an official website of the Chinese military reported.
The simulated battle drills near the Korean Peninsula were aimed at warding off a "surprise attack" from overseas, the military said.
China's HQ-6 air-defense missile weapons system attached to China's Air Force was tested during the exercise, having successfully fired at simulated sea and aerial targets, it added.
The exercise comes following an announcement of the new commander of the Chinese Air Force, lieutenant general Ding Laihang, who said that his troops would continue to transform from a territorial air defense unit into an extended arm capable of safeguarding national interests anywhere in the world.
"In the past, our strategies and guidelines focused on territorial air defense. Now we are shifting our attention to honing our ability in terms of long-range strategic projection and long-range strike," the military website quoted Laihang as saying.
The air force "will continue to carry out long-distance training over oceans" rather than being just a "strategic force," he added, saying that security challenges in the region continue to emerge.
Earlier this week, China's envoy to the UN has once again urged all parties to the rising tensions on the Korean Peninsula to return to dialogue. Saying that the situation in the region is falling into a vicious circle, he said that "China will never allow chaos and war on the peninsula," Xinhua reported.
Alongside Moscow, Beijing has been calling for implementation of a "double freezing" initiative, designed to cease both missile launches and nuclear tests by Pyongyang, and large-scale military exercises by Washington and Seoul.
READ MORE: Do not drive N. Korea into corner, sanctions alone will not solve problem – Putin
The US has rejected the joint Russia-China plan, and has been discussing further deployment of military equipment including aircraft carriers and strategic bombers to the area. Beijing has repeatedly expressed growing concerns over the build-up close to its borders, saying it further destabilizes the situation in East Asia.
You can share this story on social media: