Topless FEMEN activist mounts statue in protest outside Ukraine parliament (VIDEO)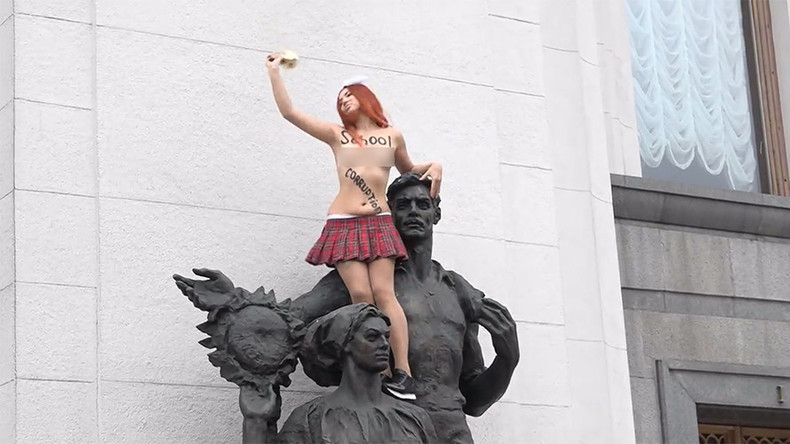 The so-called "Sextremist" group FEMEN staged another one of its signature bare-chested protests outside the Ukrainian parliament building on Tuesday.
The activist, dressed in a "first grader's" uniform, braved the elements and the consternation of onlookers to stage the topless protest atop a statue outside the Verkhovna Rada building as parliament began its new session.
The young woman had the words "School of corruption" scrawled across her chest as she rang a hand-held school bell in a damning indictment of what the group perceives as corrupt "Ukrainian parliamentarism," FEMEN wrote on its website.
The group is fiercely opposed to the Ukrainian government, levelling accusations of corruption in addition to condemning its stance on abortion and other bills affecting women's rights in the country.
The activist was arrested by Ukrainian police shortly thereafter and taken away.
Founded in Ukraine in 2008, the group has become notorious for its protests against governments and religion. FEMEN activists fled Ukraine in 2013, citing fears for their "lives and freedom" after a number of controversial actions, including the cutting down of a wooden Orthodox Christian cross in central Kiev in 2012.
FEMEN activists have also repeatedly come under media scrutiny over their questionable sources of funding, which has also caused some division in the group. Now headquartered in Paris, the group has branched out to a number of countries and enjoys regular coverage in the western media.