German police under fire for advising women to 'jog in pairs' after brutal rape incident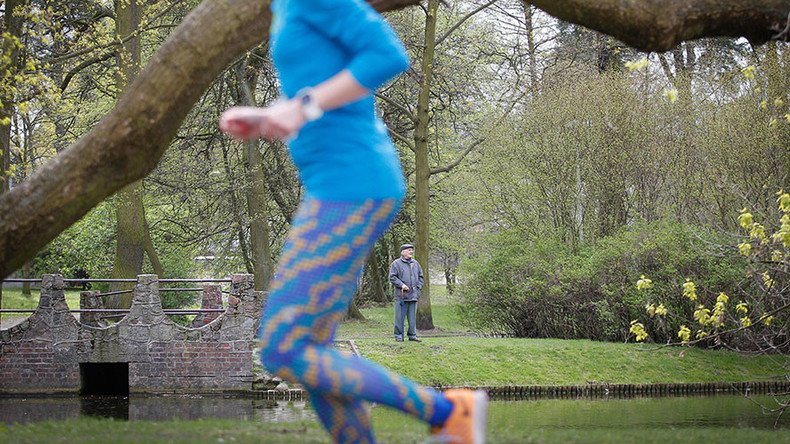 Police in Germany have been criticized after a spokesman urged women to "jog in pairs" following a brutal rape incident in Leipzig in which a woman jogging alone in a park was attacked by a man of "southern" appearance.
The incident took place in the Rosental Park in Leipzig on Friday morning, local media report. A woman in her 50s was jogging in the park when she saw a suspicious man running in her direction.
The man grabbed the woman, dragged her into a field and brutally raped her while hitting her hard in the face. The victim had to undergo emergency surgery.
When she was found, the woman described the attacker as being of "southern" appearance. He was between 25 and 35 years old, had dark hair and a short, untidy beard, according to witness accounts.
Responding to the case, Leipzig police released a statement on Sunday, advising women to jog in pairs to avoid such incidents. Police started searching for the perpetrator, but have not yet managed to find him.
"It would be better if women jogged in pairs, or at the least that they make sure that there is always someone else around," police spokesperson Uwe Voigt said, as cited by Das Bild newspaper.
The police statement has been harshly criticized by Leipzig mayor Burkhard Jung who said that "the state's answer to this terrible incident and to previous such incidents must be to put more police on the streets and in the parks - I have been calling for this for years."
"We all want to live in a city in which it is self-evident that women can go jogging alone in the park, a city in which everyone is safe," he told Bild. "We clearly need a more visible police force for that," he added.
People on social media joined the chorus of discontent reacting fiercely to the police statement and calling it "ridiculous" and "unbelievable."
"Is this the only proposal suggested by [Leipzig] police concerning this incident?" one person wondered on Twitter, while another added: "What happened to our country?"
Wenn dieser Vorschlag von der Polizei kommt fällt mir nur eins ein: Oberpeinlich und unverschämt!! Wann gibt's endlich "wirkliche" Strafen?

— Hartmut Bauer (@HartmutBauerBln) September 3, 2017
"It looks like we, women, have to adapt to impossible conditions because [Germany] can't tackle violence," one woman lamented.
wir Frauen müssen sich an einer unmöglichen Situation anpassen weil die Staat an Gewaltkampf scheitert, oder gar die Gewalt fordert

— Justine Cold Case (@keepitrunonyou) September 3, 2017
Others sarcastically suggested what types of clothing a woman should wear in order not to attract a potential offender. "Veils? Definitely not tight clothing?" one person wrote. Another person, however, noted that the woman was wearing not heels, but sports shoes while jogging.
Und verschleiert. Auf keinen Fall enge Kleidung sonst ist man selber schuld und lockt den geilen Bock an. 👍🏻 traurig aber wahr. 😒

— Jan Schubert (@JanschubertJs) September 3, 2017
Den Frauen würde auch schon geraten Sportschuhe zu tragen, und keine Pumps. Die Joggerin hatte Sportschuhe an, geholfen hat's nicht.

— FAT_TONI (@55janrich) September 3, 2017

"Perhaps our women should stay at home and [not] go outdoors at all", "Should older people go alone shopping?", "Good advice from police. Jog in pairs and one should have a Kalashnikov [rifle]," others wrote.
Ein guter Rat der Polizei. Zu Zweit joggen und einer hat eine Kalaschnikow dabei.

— Helmut B. (@Superhicell) September 3, 2017
You can share this story on social media: