Moscow will retaliate over consulate row, but not like deviant hooligan America – Russian deputy FM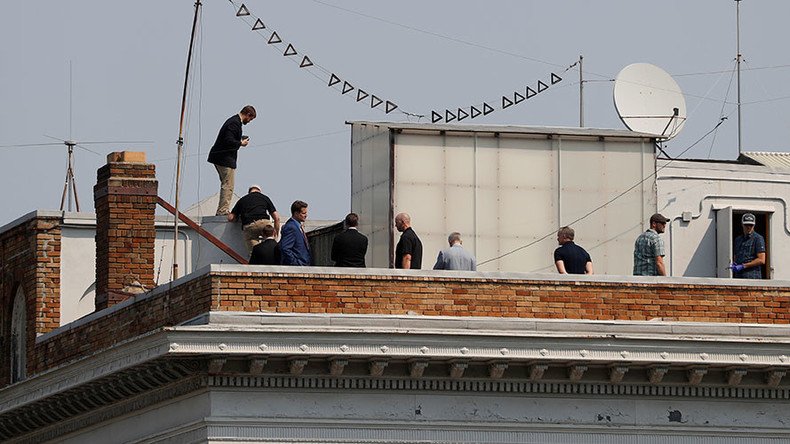 Moscow will take action in response to the way the US handled the closer of its diplomatic facilities, but will it won't be a mirror response, because Russia considers Washington's actions "deviant behavior" and "state hooliganism", Russian deputy foreign minister said.
READ MORE: 'Illegal, meaningless clownery': Russia condemns US searches of diplomatic property
"We shouldn't try to be like them. We never say that any unfriendly or hostile action by America should be responded to with a counteraction that replicates the American line, which leads towards political and judicial lawlessness," Sergey Ryabkov told journalists on Monday.
He was commenting on Washington's decision at short notice to shut down the Russian consulate in San Francisco as well as two diplomatic facilities in Washington and New York. The August 31 eviction notice ordered Russian diplomats to vacate the building by September 2. The FBI on Saturday started searches of the premises, which, Russia insists, violate the diplomatic immunity of its mission in the US.
"We have never faced such long-reaching and thoroughly offensive violations of fundamental norms of international law before," the diplomat said. "I would call what's happening now state hooliganism."
"Countries may have all sorts of opinions about each other's policies, but they should stick to some rules, or rather proprieties. And there are big problems with that," he said, adding that American behavior was "pretty much deviant, politically speaking."
Ryabkov said it would take some time to process the developments and decide on an appropriate response. But Russia will eventually retaliate, he promised.
"I assure you, we have many options. The issue is not about coming up with one; it's about not emulating this low, undignified behavior. Otherwise we will soon find ourselves in a politico-diplomatic jungle," he explained.
Speaking later to RT, the deputy minister said Moscow and Washington should break the chain of retaliation to move forward.
"The only feasible way forward in our miserable relationship with the US is to stop this vicious circle of measures and counter-measures, tit-for-tat, and try to find a neutral form of identifying a positive agenda," he said. "We have offered some ideas to the US to that extent and we will continue dialogue."
You can share this story on social media: