Switzerland ready to be mediator in North Korea crisis – Swiss president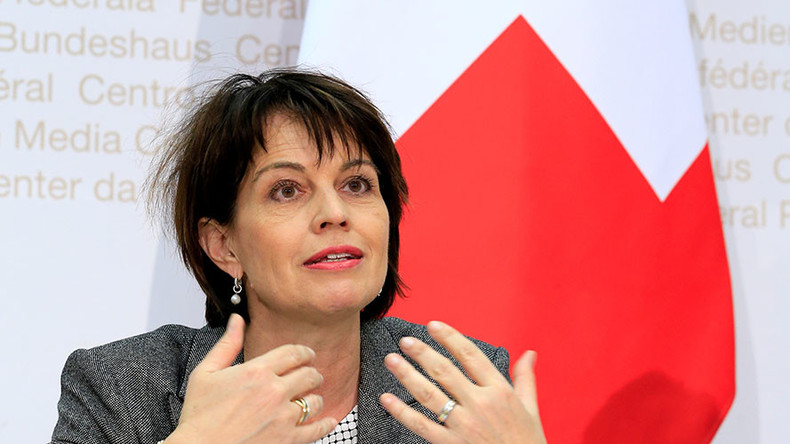 Switzerland is prepared to act as a mediator in the present crisis on the Korean peninsula, Swiss President Doris Leuthard said, as cited by Reuters.
"We are ready to offer our role ...as a mediator," Leuthard said, speaking at a news conference. "It is really time now to sit down at a table. Big powers have a responsibility."
Swiss troops were deployed on the demarcation zone between South and North Korea [after the 1950-1953 Korean War], Leuthard said, adding that Switzerland had a long history of neutral diplomacy. The US and China are also responsible for dealing with the Korean crisis, she stressed.
North Korea and the US are currently engaged in a war of words which has the potential to devolve into a heated military conflict. While Washington and its allies say Pyongyang has violated its international obligations with its missile and nuclear tests, North Korea slammed Washington's military build-up in the region – in particular, the joint US-South Korea Ulchi Freedom Guardian drills, which took place in late August.
In a series of tweets on Sunday, Donald Trump branded North Korea a "rogue nation and a threat."
READ MORE: S. Korea holds ballistic missile drill in response to Pyongyang's nuclear test (VIDEO)
The latest developments in Pyongyang's nuclear capabilities are "very hostile and dangerous to the United States," the US president said.
In one of his latest statements on North Korea, Trump vowed to use the "full range" of capabilities at his country's disposal and might resort to using its nuclear arsenal against North Korea if it continues to threaten Washington or its allies.
His statement came after North Korean state media claimed that the country has tested a hydrogen warhead which can be mounted on an Intercontinental Ballistic Missile (ICBM).
You can share this story on social media: