Man threatening people with sword arrested in Sweden (PHOTOS)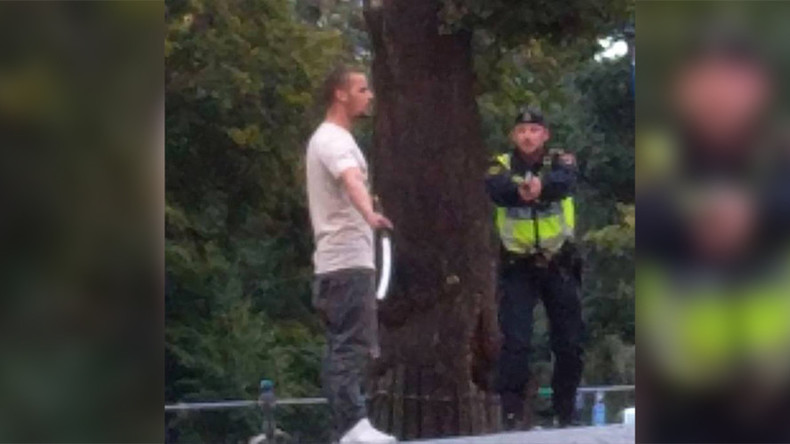 Police arrested a man with a sword who was allegedly threatening people in southern Sweden, local media reported. Police fired a warning shot before handcuffing the man, after he allegedly raised the weapon against them.
The incident took place near the Storbron bridge in the center of Örebro, Sweden on Saturday, Swedish media reported.
Police received warnings of a young man walking around the city and threatening passersby with a sword. When the man encountered the police, he allegedly raised the weapon against them.
"As we were looking for him, he approached a patrol and raised the sword. When he did not lower it, police fired a warning shot," officer Jan-Åke Sjöström of Bergslagen District Police said, as cited by Expressen newspaper.
Police tried several times to get the man to put the weapon down before firing, according to NA reporter Stefan Hazianastasiou, who witnessed the incident.
The warning shot prompted the man to release his weapon. Police then arrested him.
"Me and my friend waited for the taxi [when we saw] the guy come up with a sword. Police officers shouted to him to lay down [the sword]. They made a warning shot," a witness told Expressen.
"I did not understand what was happening at first. I thought they were shooting a movie," Victoria, 47, who witnessed the incident, told Aftonbladet newspaper. "I saw this man with a sword and police who [aimed their] guns [at] him."
The 23-year old was not previously known to police. He is suspected of threat to law enforcement officials and making unlawful threats. His motives remain unclear.
Örebro is the seventh-largest city in Sweden, with around 120,000 residents.