Moscow hands in note of protest to US over plan to search trade mission in Washington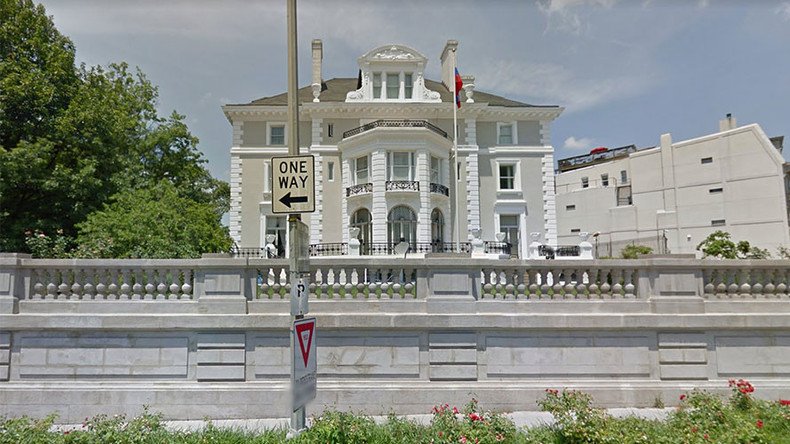 Russia has summoned the deputy chief of mission of the US Embassy in Moscow to lodge a note of protest over US plans to search the Russian trade mission in Washington, the Russian Foreign Ministry said.
Anthony F. Godfrey was summoned to the ministry on Saturday, it said in a statement, adding that Russian diplomats have been denied access to the trade mission building despite it being owned by Russia and protected by diplomatic immunity.
"We consider the planned illegal search of Russian diplomatic premises in the absence of Russian officials and the threat we have received to break down the door of the building as an aggressive action, which the US intelligence service may use to orchestrate an anti-Russian provocation by planting compromising items," the statement said.
Moscow has called on Washington to stop violating international law and refrain from compromising the immunity of Russian missions in the country. Otherwise, retaliation may follow, the ministry warned.
Earlier, the US ordered Russia to shut down its consulate in San Francisco and two auxiliary offices in Washington and New York. On Friday, Russian Foreign Ministry spokesperson Maria Zakharova said the FBI was planning to search the general consulate premises, including homes of the diplomatic staff, which would violate diplomatic immunity.
Former US diplomats, who RT reached out to, questioned the reasons behind the searches, saying it will only lead to a further escalation of tensions.
The US authorities are highly unlikely to find "anything of interest" in the Russian Consulate in San Francisco, as there is probably nothing more than "confidential diplomatic materials," which are supposed to be there anyway, Ted Seay, a former US diplomat, told RT.
"What are our people going to do in your ambassador's apartments or in the consulate in San Francisco? Look for illegal recipes for borsch? Of course, you have to respond and to go into our consulate in St. Petersburg – looking for what? Perhaps, for too many copies of Doctor Zhivago in the embassy's library?" John Graham, former US ambassador to Libya, said.
"This foolishness happens [but] it happens usually at the lower levels," he added. Meanwhile, Seay warned that "things are already too tense between the two countries" and both sides should proceed with "great care."
"To me, that means again that anyone who is actually planning to raid diplomatic premises in San Francisco, has lost their mind," the former US diplomat said.
A diplomatic row between Moscow and Washington broke out in late 2016, triggered by former US President Barack Obama, who expelled 35 Russian diplomats and their families, as well as confiscating two Russian diplomatic compounds just before the New Year's.
The former president accused the diplomats of intelligence activities as well as accusing Russia of interfering in the 2016 US presidential election, even though no evidence has ever been made public.
At that time, the Kremlin denied the accusations and denounced Washington's actions as a "witch hunt." However, Moscow did not take any retaliatory measures, as it was hoping to restore relations with the US under the incoming president, Donald Trump.
However, the issue regarding the Russian diplomatic property confiscated in December 2016 has never been addressed by the new administration. In July, the US Congress adopted new legislation that limited President Trump's ability to formulate foreign policy towards Russia by barring him from easing sanctions on Russia without congressional approval. The new legislation also imposed new unilateral sanctions on Moscow.
This move prompted the Kremlin to finally hit back by ordering the US State Department to limit the number of personnel in Russia and to bring it in line with the number of Russian diplomatic staff in the US. Moscow also ordered Washington to suspend use of a warehouse and a suburban residence in the Russian capital by US mission staff.
Washington responded in late August by announcing the closure of consulates in St. Petersburg, Yekaterinburg, and Vladivostok and suspending all "non-immigrant visa operations" in Russia until September. It also added that visa operations would be resumed only at the main embassy building in Moscow.
On August 31, the Trump administration also ordered the closure of Russia's consulate in San Francisco, California and two diplomatic annexes in Washington and New York City.
You can share this story on social media: