Berlin may further 'rethink' ties with Ankara after new detentions of Germans in Turkey – Merkel
Published time: 1 Sep, 2017 20:37
Edited time: 1 Sep, 2017 20:47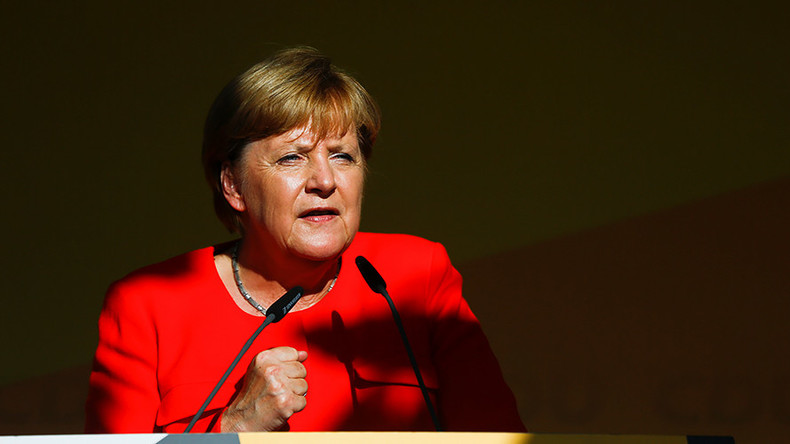 Two German citizens were detained in Turkey under unknown circumstances this week, prompting Chancellor Angela Merkel to announce that Berlin should "react decisively" this time and further "reconsider" ties with Ankara.
Merkel's main rival in the upcoming elections, Social Democratic Party (SDP) leader Martin Schulz said this must be done in days rather than weeks.
The latest detentions occurred at Antalya airport Thursday, Germany's foreign ministry said. Berlin was not officially informed of the arrests and the diplomatic mission only became aware through "non-state sources," ministry spokeswoman, Maria Adebahr said.
Diplomats have not been able to contact the detained German citizens, she said, adding that while Berlin is "trying to establish what they are charged with," it is assumed that "it's a political charge, suspicion of terrorism, as with the others."
There are now 12 German citizens in Turkish detention on political charges, Reuters reports.
READ MORE: Erdogan tells Germany to 'pull itself together' as rift deepens
"We must react decisively," Merkel told a business event in Nuremberg Friday, adding that such arrests are "in many cases unfounded." The detentions in Turkey have "nothing to do with our principles of the rule of law," she said.
Under these circumstances, the German Chancellor said she would block negotiations on an extension of Turkey's membership in the EU customs union. Ankara has been part of a special agreement with Brussels since 1995.
And while Berlin has already revised its ties with Ankara, Merkel said that "given the last day's events, perhaps it is necessary to rethink them ever further."
Schulz, who is also a former president of the European Parliament, criticized Ankara as well. He said the time is approaching to impose counter-measures against Turkey. This is no longer a question of weeks, but should rather be considered in the next few days by the government, Schulz said Friday, Der Spiegel reports.
Last week, German Foreign Minister Sigmar Gabriel said "Turkey will never become a member of the EU" under the leadership of Recep Tayyip Erdogan. "It's not because we don't want them but because the Turkish government and Erdogan are moving fast away from everything that Europe stands for," he told German media.
Gabriel also accused the Turkish president of interfering in Germany's upcoming elections. In the escalating tit-for-tat, Erdogan told the German minister to "know his limits" and once again urged nearly 3 million German Turks not to vote for Chancellor Angela Merkel's Christian Democrats, Martin Schulz's SDP or the Green Party in the upcoming German federal election on September 24.
READ MORE: 'Who are you? Know your limits!' Erdogan attacks German FM in elections interference row
The rift between the two countries has been deepening in the past months. Following the botched military coup in Turkey in 2016, Ankara accused Berlin of harboring supporters of US-based cleric Fethullah Gulen, who was singled out by Erdogan and his supporters as the mastermind behind the coup attempt. Recently, Erdogan claimed that Merkel has failed to hand over some 4,500 suspected coup plotters.
Turkey has also arrested two German journalists, one of them with dual citizenship, having accused them of alleged espionage.
Germany has repeatedly accused Turkey of human rights violations and has demanded the release of German nationals detained by Ankara over alleged "terrorism support" and participation in the coup attempt.
Amid the row, Berlin also withdrew its troops and military aircraft from Turkey's Incirlik Air Base. Earlier, Germany recognized the early 20th century Armenian massacre in the Ottoman Empire as "genocide."
In July, the German government urged its citizens to exercise caution when traveling to Turkey. However, no formal travel warning has been issued.