Biker stops oncoming highway traffic to save man from suicide (VIDEO)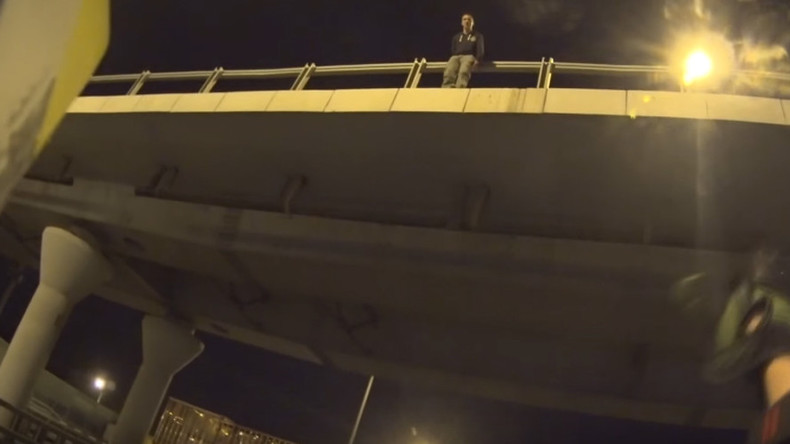 A biker in Moscow Region has posted a video online showing his efforts to prevent an apparent suicide attempt. He can be seen talking a man out of jumping from a bridge onto the highway below, as he stops oncoming traffic.
Helmet camera footage shows the biker riding on a highway in Moscow Region. A man standing on an interchange fence overhead then catches his attention.
The biker makes a daring U-turn, going against the flow of traffic, and eventually stopping it. He then waves to the man, who is soon seen moving away from the edge of the interchange road.
"I knew that I was violating the traffic rules and I was doing it as carefully as possible, as I realized that had no time for any other option. He could have jumped straight under a car," the biker, Ivan Zolotarev, wrote in his post.
Afterwards, the biker rides onto the overpass to find the man and starts a conversation with him. A couple of drivers also stop to talk to the man, who later tried to escape, the biker wrote in the video description.
"We waited for all of them – the police, emergency service and ambulance arrived shortly. Some 10 minutes passed since we approached Aleksey [the man on the bridge]. All this time we've been talking to him about various unrelated stuff," the biker wrote.
The man said he was hitchhiking from Vladimir to Kursk to attend the funeral of his mother, and suffered an apparent mental breakdown, according to the video's author.