North Korea releases footage of missile launched over Japan (VIDEO)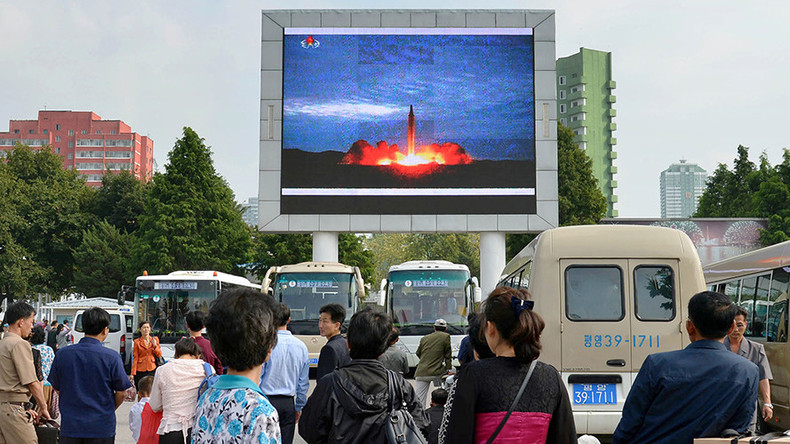 North Korea's official state media outlet has published a video which reportedly shows Pyongyang's recent missile launch over Japan. The launch has increased tensions with Washington, prompting Donald Trump to warn that talking is "not the answer."
The Korean Central News Agency (KCNA) claims the footage shows the moment a ballistic missile was launched over Japanese airspace early on Tuesday.
The missile flew about 1,700 miles (2,735km) and reached a height of 341 miles (548km), according to the South Korean military. It later broke into three pieces before falling into the Pacific Ocean, according to Japanese media.
The video comes after North Korean leader Kim Jong-un hailed the Tuesday launch as a "meaningful prelude" to striking the US territory of Guam, and said that Pyongyang needs to conduct more ballistic missile tests to advance its capabilities.
Hours after the launch, North Korea accused the US of driving the Korean Peninsula towards an "extreme level of explosion," and said Pyongyang is justified in responding with "tough counter-measures."
Read more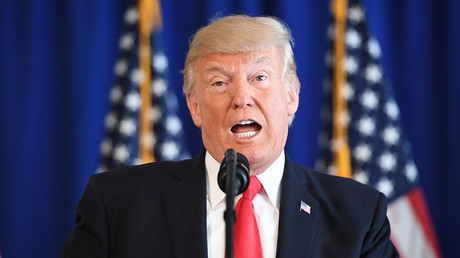 "Now that the US has openly declared its hostile intention towards the Democratic People's Republic of Korea, by waging aggressive joint military exercises despite repeated warnings... my country has every reason to respond with tough counter-measures as an exercise of its right to self-defense," Han Tae Song, North Korea's ambassador to the UN in Geneva, told the UN Conference on Disarmament.
Han was referring to joint US-South Korean drills, the most recent of which began last week.
Following the launch, the leaders of Japan and South Korea agreed to ramp up pressure on Pyongyang "to the maximum," seeking tougher sanctions against the isolated country.
The Tuesday launch also prompted President Trump to respond by saying that "all options are on the table" when it comes to dealing with Pyongyang.
"The world has received North Korea's latest message loud and clear: this regime has signaled its contempt for its neighbors, for all members of the United Nations, and for minimum standards of acceptable international behavior," Trump said on Tuesday, according to a White House statement.
Read more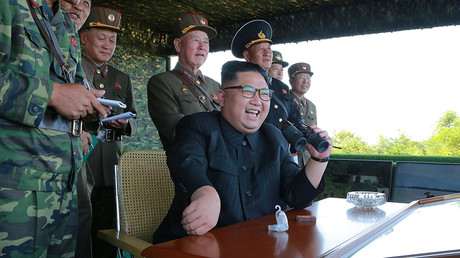 "Threatening and destabilizing actions only increase the North Korean regime's isolation in the region and among all nations of the world. All options are on the table," Trump added.
The US president held a 40-minute phone call with Japanese Prime Minister Shinzo Abe after the launch, during which Trump said the US was "100 percent with Japan," Abe told reporters following the conversation.
South Korea was also quick to respond to the launch, staging bombing drills to demonstrate its military force to the North. The exercise involved four F-15K fighter jets dropping Mk84 multipurpose bombs on a shooting range near the inter-Korean border in Taebaek, the presidential press secretary told reporters, according to Yonhap.
Meanwhile, China warned on Tuesday that tensions on the Korean Peninsula had reached "tipping point" and are "approaching a crisis." It urged all sides to avoid further provocations.
China and Russia have proposed a "double freeze" initiative which would see North Korea suspend its missile tests in exchange for a halt in joint US-South Korea military drills – a plan which has been supported by Germany but rejected by Washington.