Tit for tat: Seoul unveils missiles that may counter North Korea (VIDEO)
Published time: 30 Aug, 2017 13:16
Edited time: 30 Aug, 2017 14:03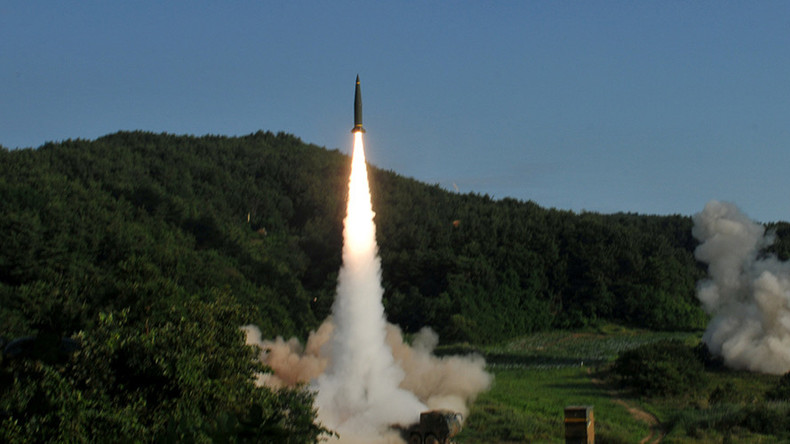 South Korea has released dramatic footage of a missile test, conducted last week, showing the launch of two missiles, one with a 310-mile (500km) range and the other with a 500-mile (800km) range, which may counter North Korea.
The tests were the last ones before the deployment of the missiles, South Korea's state-run Agency for Defense Development (ADD) said, as cited by Yonhap news agency.
The ADD said the missiles will serve as key elements in South Korea's pre-emptive strike scheme.
"Our military has the missile capability with top-level precision and power to strike any place in North Korea if necessary," the ADD said. "It will greatly reinforce missile forces and power down the road as well."
On Tuesday, North Korea triggered an avalanche of criticism from the international community when it launched a missile that passed through Japan's northern airspace.
Pyongyang said its latest test of the Hwasong-12 missile, observed by the country's leader Kim Jong-un, was a successful demonstration of Pyongyang's determination to counter any potential threat stemming from the US- South Korea joint military drills.
READ MORE: 'Missiles to fly over Japan & land near Guam': N. Korea's strike plan vs US to be ready in 'days'
The rocket flew an estimated 2,700 kilometers, which further proved that Pyongyang's repeated threat to fire missiles toward the US Pacific territory of Guam was not a bluff, noted the head of the Foreign Affairs Committee in the Russian Federation Council, Konstantin Kosachev.