US sanctions against Venezuela destabilizing & 'imbued with cynicism' – Russian foreign ministry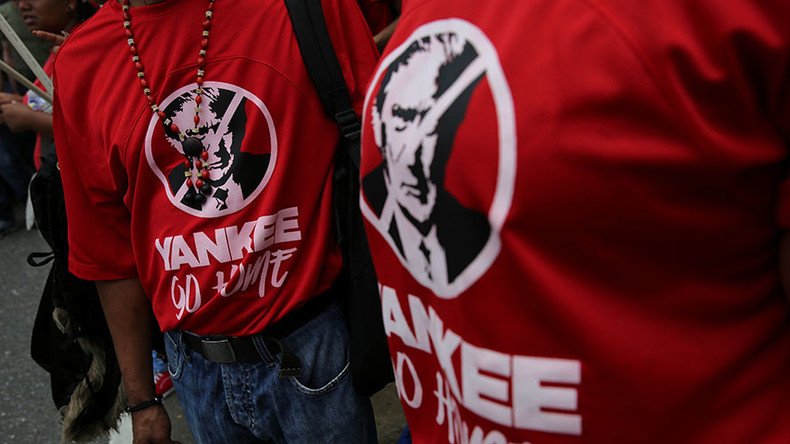 The latest sanctions imposed by the US on Venezuela are deliberately aimed at further destabilizing a country at a time when it's showing the first signs of emerging from a crisis, Russia's foreign ministry spokesperson Maria Zakharova has said.
The new measures, aimed at exerting more financial pressure on Caracas, were announced at a time when tensions in Venezuela started to decrease and the situation showed signs of relative stabilization, Zakharova said, adding that, in such circumstances, the new sanctions against Venezuela's financial and oil sectors were "clearly" aimed at "further destabilization of the situation."
"The very logic of sanctions implies further increase of tensions," she said. Zakharova added that the "actions of the people behind the sanctions are imbued with cynicism."
She said the restrictive measures imposed against the Venezuelan government would only encouraged radical forces, which do not see a way to achieve their political goals without forcefully removing the current government from power.
"Provoking and encouraging the destabilization of the domestic political situation [in Venezuela] from the outside cannot benefit ordinary Venezuelans, no matter what political views they may have."
The Latin American country needs a nationwide inclusive political dialogue instead, Zakharova said.
The Russian foreign ministry spokesperson also underlined that Russia "strongly opposes any unilateral sanctions imposed against sovereign states," adding that the resolution of the Venezuelan political crisis can be achieved only through "peaceful talks conducted within a proper legal framework without any outside interference."
"Everything that goes beyond this framework is aimed at undermining the constitutional order in Venezuela and leads only to further hardships for its citizens," she said in a statement published on the Russian foreign ministry's official website.
Russia is willing to "contribute to a [crisis] settlement in Venezuela inasmuch as it is required given the internal political dynamics in that country," she added. Moscow would "carefully analyze" the potential effects sanctions could have on the Russian interests in the region.
Zakharova said unilateral US actions would definitely have no effect on Russia's willingness to develop cooperation with the Venezuelan people.
On August 25, the Trump administration issued an order prohibiting Americans from dealings in new debt and equity issued by the Venezuelan government and by its state oil company, PDVSA. Trump's National Security Adviser, H.R. McMaster, also said that the US will continue to increase pressure on Venezuela until its citizens' "rights and democracy are fully restored."
At the same time, US Treasury Secretary Steve Mnuchin said exceptions would be made for certain transactions between the US and Venezuela, including petroleum exports and imports involving Citgo, PDVSA's American unit.
The move provoked anger in Caracas. Venezuela's foreign minister Jorge Arreaza blasted the move by calling it "the worst aggression towards Venezuela in the last 200 years." He also accused the US of trying to ignite a humanitarian crisis in Venezuela.
Washington took a harsh stance against president Nicolas Maduro and other senior Venezuelan officials following last month's Constituent Assembly elections, which are considered "illegitimate" by the US. The US also added eight Venezuelan officials to the sanctions list, which already included Maduro, and has barred American citizens from doing business with those blacklisted.
On August 11, president Trump even said he did not rule out a "military option" to resolve Venezuela's political crisis. In response, Maduro announced a nationwide military drill to fend off a possible "imperialist" invasion.
On Monday, the Chinese foreign ministry also criticized the new US sanctions by saying it would only worsen the situation in Venezuela.
"The present problem in Venezuela should be resolved by the Venezuelan government and people themselves," China's foreign ministry spokeswoman Hua Chunying said at a daily news briefing. She added that "outside interference or unilateral sanctions will make the situation even more complicated and will not help resolve the actual problem."
You can share this story on social media: