Blast in Kiev govt quarter injures 2 as US Defense Secretary Mattis visits on Independence Day
Published time: 24 Aug, 2017 13:32
Edited time: 24 Aug, 2017 17:20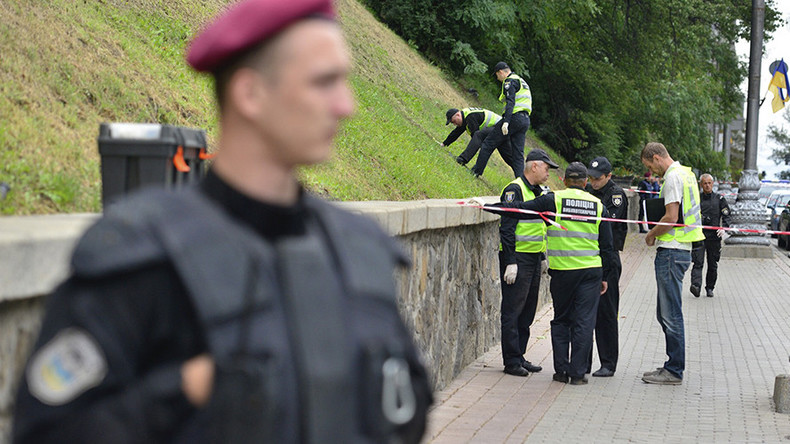 A blast hit central Kiev on Thursday, after a military parade ended nearby. At least two people were injured, with police now working at the scene. US Secretary of Defense James Mattis is visiting Ukraine as it celebrates Independence Day.
An unknown device exploded at around 2pm local time on Grushevsky street, local police report. The street is Kiev's central avenue, with the Ukrainian parliament building, the national bank of Ukraine, and other governmental structures located in the area.
A man and a woman were taken to the hospital following the explosion, police say.
Bomb disposal units have been dispatched to the scene. The secretary of Ukraine's National Security Council and head of national police have also arrived, local media report.
Ukraine marked its independence day with a military parade, which ended shortly before the explosion.
US Defense Secretary Mattis is currently visiting Kiev. Earlier in the day, he made a statement announcing that US is considering supplying lethal arms to Ukraine. The Pentagon chief also said that Washington recently decided to supply Ukraine with more than $175 million worth of equipment.
As of now, investigators are regarding the incident as disorderly conduct, a representative of Ukraine's security service, Elena Gitlyanskaya, told Interfax-Ukraine.
However, according to Security Council head Aleksandr Turchinov, the incident might have been "a planned act of terrorism."
"[The terrorists who carried it out] did it on Independence Day, so that not everyone could enjoy the holiday… We are now searching for them," Hromadske.ua quoted the official as saying.
According to one of the eyewitnesses, vehicles with diplomatic car plates were attacked.
"A firecracker was thrown at cars of an Azerbaijani embassy. It missed and hit two passers-by, a woman and a young man," Vitaly Gruzinov wrote on Facebook.
Earlier in the day, police in Kiev reported that a foreigner had been killed in the center of the Ukrainian capital. The murder suspect was later detained, RIA Novosti reported.
In the past months, central Kiev has seen various levels of unrest. Far-right nationalists have on several occasions staged protests in the streets near the country's parliament, the Verkhovna Rada, often setting fires and vandalizing buildings.
Killings also marred the city center. In one of the recent highly-publicized cases, former Russian lawmaker Denis Voronenkov was shot and killed in broad daylight in central Kiev, with his bodyguard injured. The exchange of fire happened in front of the main entrance to the Premier Palace Hotel, with the former MP shot twice in the head.