CCTV captures cold-blooded murder of former Russian lawmaker in Kiev (GRAPHIC VIDEO)
Apparent CCTV footage capturing the moment former Russian lawmaker Denis Voronenkov was shot and killed in central Kiev, with his bodyguard injured, has emerged online.
In the video, a man in casual clothes and wearing a hood is seen walking fast, approaching Voronenkov and his bodyguard in the street from behind. When he catches up with the men, he is seen taking out a gun.
The man in darker clothes – the former Russian politician Voronenkov – faces the attacker and then immediately falls to the ground. The camera also captures a girl walking past with her back to the murder scene. She then starts running, apparently scared by gunshots.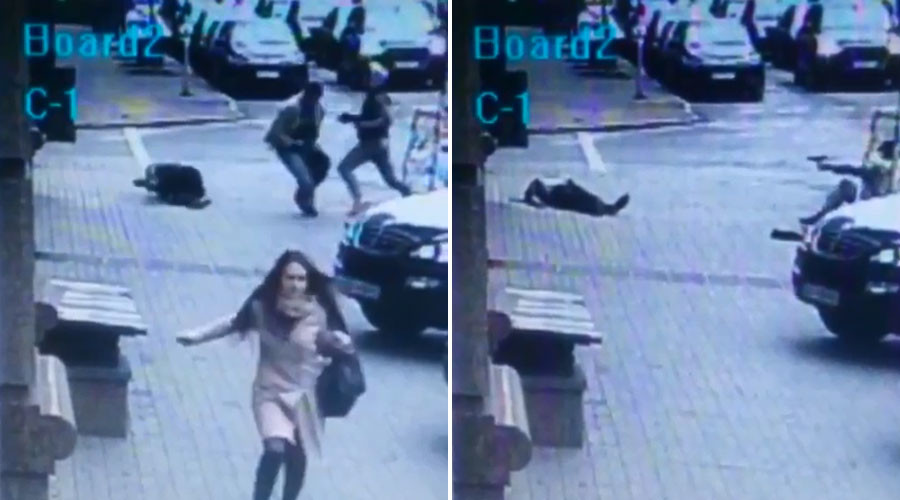 The man in lighter clothes – Voronenkov's bodyguard – is seen throwing himself at the assailant. However, he can also be seen falling to the ground, while the attacker ensures that Voronenkov is dead.
The attacker then tries to flee and turns the corner, out of sight of the video, but the bodyguard is seen firing at him. Seemingly injured and in pain, the bodyguard then checks on Voronenkov, while vehicles drive past, none of them stopping.
The exchange of fire happened in broad daylight on Thursday, in front of the main entrance to the Premier Palace Hotel in central Kiev.
Ukrainian police later said the former lawmaker was shot twice in the head, and that his bodyguard was injured. The suspected attacker was also injured and later died in hospital, with police saying they've established his identity as a Ukrainian national.
Voronenkov, 45, was a former member of the Russian Communist Party and emigrated from Russia to Ukraine in October last year. He received Ukrainian citizenship in December, having given up his status as a Russian citizen.
The fugitive lawmaker had been on a federal wanted list in Russia and on an international wanted list, charged with masterminding a large-scale fraud.
Less than an hour after the killing, Ukrainian President Petro Poroshenko called it "an act of Russian state-funded terrorism." Russia has rejected accusations of links to Voronenkov's killing, with Kremlin spokesman Dmitry Peskov calling any such allegations "absurd."
You can share this story on social media: