Barcelona attack suspect reveals bigger attack with explosives was planned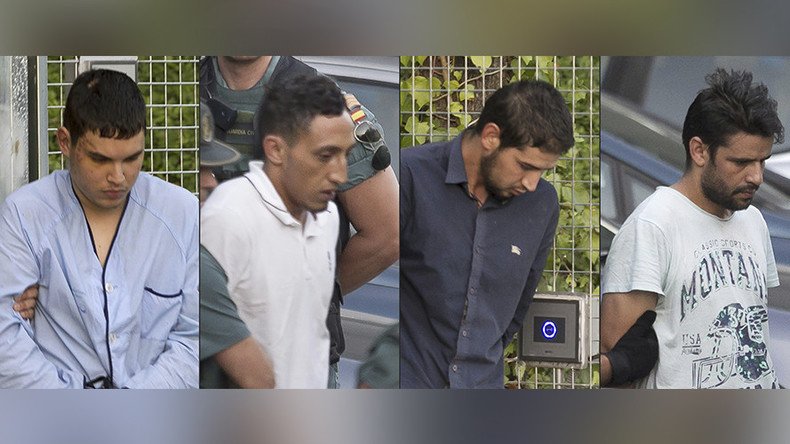 A suspected member of the terrorist cell which carried out attacks in Catalonia said the group planned a bigger attack with explosives, Spanish media report. The testimony comes as four alleged group members appear at the high court in Madrid.
READ MORE: Catalonia terror attacks
The testimony came from Mohamed Houli Chemlal, who was first to testify. The alleged terrorist group member didn't specify the target for the larger attack initially plotted by the group, EL Pais reports, citing unnamed judicial sources.
However, a conflicting report by El Mundo claims that Chemlal provided details of an initial plot. He reportedly told the judge the group was going to attack major Barcelona monuments, including the Sagrada Familia cathedral, confirming a previous statement he gave to Catalan police.
Chemlal appeared in court with three other surviving suspects on Tuesday. The four are believed to be members of the group responsible for the Thursday carnage at tourist hotspot Las Ramblas in Barcelona, which left 13 people dead and scores injured, as well as the Cambrils attack that followed hours later, in which a woman was stabbed to death.
While the five assailants of the attack in Cambrils were shot by police in a standoff, two other suspected cell members, including the possible mastermind of both assaults, imam Abdelbaki Es Satty, died earlier in an accidental blast in a house in Alcanar. There, police found 120 butane canisters believed to be used in bomb manufacturing.
The last suspect, 22-year-old Younes Abouyaaqoub, was shot and killed by police the day before the first hearing. The manhunt came to an end in Subirats, west of Barcelona, after officers received a tip-off on a suspicious man wearing an explosive belt. Abouyaaqoub is believed to have driven a rented van into pedestrians in Barcelona before escaping on foot.
As Chemlal, Driss Oukabir, Mohamed Aallaa and Salh El Karib gave their statements on the double attacks at the court, a Spanish prosecutor reportedly requested that the judge detain the four without bail, according to EL Pais.
Two of the suspects told the court that imam Abdelbaki Es Satty was the instigator, Spanish media reported, adding that the public prosecutor had asked the judge to send all four to jail while investigations continued.
The four may face jail terms on charges of belonging to a terrorist organization, murder and possession of explosives, El Pais reported, citing the prosecution.
You can share this story on social media: