Massive blaze engulfs residential area in southern Russian city (PHOTOS, VIDEOS)
More than 500 people have been evacuated from a residential area in Rostov-on-Don, southern Russia, where a huge fire has engulfed over 10,000 sq meters. City authorities have declared a state of emergency.
Nearly 450 emergency workers and hundreds of vehicles, including helicopters and a ship, have been deployed to put out the fire.
"Some 25 houses have been gripped by fire," the regional Emergencies Ministry deputy chief, Evgeny Kondratyev, said Monday. Twelve houses were previously reported as having been affected. "Adjacent districts had gas and electricity cut off," he added.
Earlier, a huge gas explosion in the area was reported, according to RIA Novosti.
Temporary accommodation for more than 700 people has been located, with a hotline and psychologists offering help. The number of those injured in fire has climbed to 27, the regional health authorities said, with some being treated for moderate burns.
Two planes and more helicopters have been sent to battle the blazes, the Emergencies Ministry said in a statement on its website.
The fire has been raging since 12:52, quickly spreading to a larger area due to a strong wind. Wind gusts up to 15 m/s were said to hamper the rescue efforts in the Russian port city's historic area.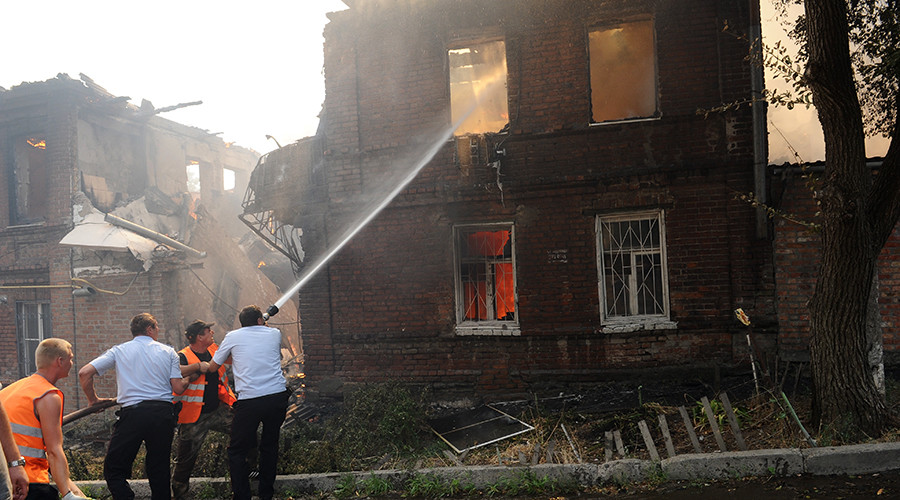 The blaze initially started in a house before spreading to neighboring one and two-story buildings. At some point flames spread to cover a multistory building, with firefighters quickly localizing it.
At around 7pm local time the firefighters finally stopped the blaze from spreading further, Rostov Region's emergency services told Interfax.