#ShameonyouMalaysia hashtag goes viral after Malaysia presents Indonesian flag upside down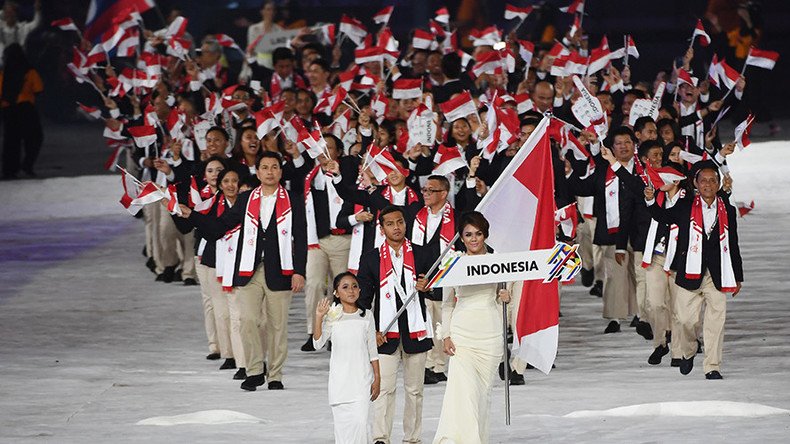 Indonesia accused Malaysia of "fatal negligence" after the Indonesian flag was printed upside down in a guidebook for the Southeast Asian Games. The gaffe triggered an outcry, with the hashtag #ShameonyouMalaysia trending on social media.
The embarrassing incident concerns "national pride," Indonesian President Joko Widodo told reporters in Jakarta, calling for an apology.
The Indonesian flag features two horizontal bands, with red on top and white underneath. Turning it upside down makes it resemble the flag of Poland.
Indonesian Olympic Committee Chairman Erick Thohir said the mistake "shows negligence" and demanded the guidebook, distributed to VIPs at Saturday's opening ceremony of the 29th Southeast Asian Games in Kuala Lumpur, be removed and a new, correct version released.
"Friendship is the greatest legacy in sports, but a mistake in presenting a national identity is not justified," Thohir noted.
Indonesian Youth and Sports Minister Imam Nahrawi was also up in arms over the national flag blunder, posting pictures of the mistake on Twitter.
"It was a good opening ceremony but spoiled by this fatal negligence that was very painful," he wrote.
READ MORE: 'Go learn geography': Internet goes wild over presidential candidate Macron's French Guiana mishap
"There was no malice intended," the Malaysian Minister for Youth and Sports, Khairy Jamaluddin, tweeted, offering an apology.
The Malaysian Organizing Committee has also apologized, saying this was "an inadvertent error."
"We very much regret the mistake," it said in a statement.
Festive sports ceremonies have often been marred by embarrassing incidents, with wrong flags displayed and incorrect anthems played.
The Rio Olympic Committee used the wrong Chinese flag at awards ceremonies in August last year.
The stars on the Chinese flags raised during the swimming and shooting medal ceremonies were incorrectly positioned, Reuters reported, citing Chinese media.
Tensions flared during the 2012 London Olympics, with the North Korean women's soccer team leaving the field after the flag of South Korea, Pyongyang's old nemesis, had been displayed by mistake.
"Of course the people are angry," International Olympic Committee (IOC) member Chang told Reuters. "If your athlete got a gold medal and put the flag probably of some other country, what happens?"
Then-president of the International Olympic Committee Jacques Rogge said there had been no political connotation, however.
"It was a simple human mistake," he noted.
Russian athletes who won gold at the biathlon world championships in Austria in February had mixed feelings when the wrong version of the Russian anthem started playing. Taking matters into their own hands, they sang the right version a cappella. The organizers apologized for the blooper, saying it was a mistake made in good faith.
You can share this story on social media: