Last rebel group in Syria's East Ghouta de-escalation zone joins truce – Russian MoD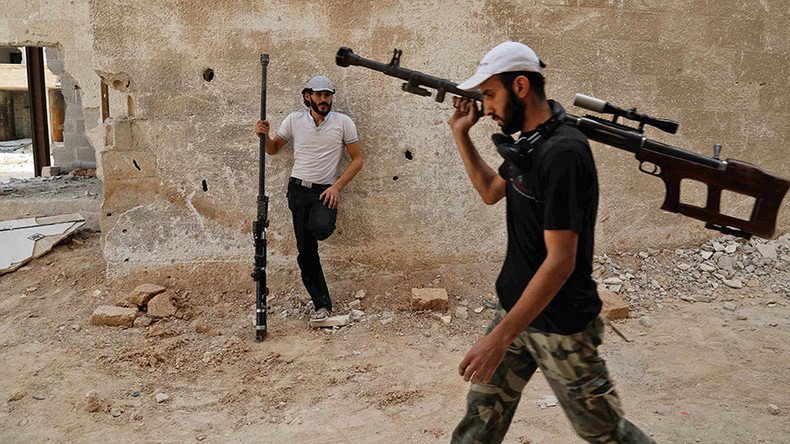 The last moderate armed opposition group in East Ghouta has accepted the terms of the de-escalation agreement after successful negotiations with the Russian reconciliation committee, the defense ministry said.
"Representatives of the Defense Ministry of Russia and the Syrian opposition's large grouping Faylaq Al-Rahman have signed an agreement in the city of Geneva, under which the group will join the ceasefire from 21:00 Moscow time in the de-escalation zone of East Ghouta," the ministry said in a statement Friday.
Islamic State and Jabhat al-Nusra linked terrorist cells in the Damascus region are still excluded from the ceasefire deal which requires all armed opposition to halt hostilities and allow food and humanitarian aid to be brought in.
"Faylaq Al-Rahman confirmed their readiness to conduct the irreconcilable struggle against terrorists of the ISIS and Jabhat al-Nusra, and also proposed measures for improving the humanitarian situation in the areas of the de-escalation zone controlled by this group," the Russian defense ministry said.
Besides being previously active in East Ghouta, Faylaq Al-Rahman, affiliated with the Free Syrian Army, is also the main rebel group in Jobar, a municipality of the Syrian capital Damascus. Getting the group onboard was hailed as a major diplomatic coup in the fight to bring peace to that part of Syria.
"Through negotiations, Russia's defense ministry has managed to involve in the ceasefire in the East Ghouta de-escalation zone all of the moderate opposition groups operating there," the ministry said.
Eastern Ghouta is in one of four de-escalation zones that have been established in Syria. Other safe zones include Idlib in the north, Homs in the east, and a fourth in southern Syria, that is yet to be demarcated.
READ MORE: Russia to continue cooperation with US on de-escalation zones in Syria – Lavrov
The proposal to establish four de-escalation zones was signed by Russia, Iran and Turkey, with the approval of the Syrian government in the Kazakh capital Astana in May. The UN has welcomed the initiative.
All four designated zones are areas controlled by armed rebels who have been under pressure from the government forces' advance. Under the terms of the ceasefire agreement, they are to be monitored by the Astana signatories, while Russia retains the right to control the airspace above them, without engaging in air raids. Russian military police control the implementation of the agreement on the ground.
You can share this story on social media: