600 migrants rescued off Spanish coast within 24 hours, largest number in single day this year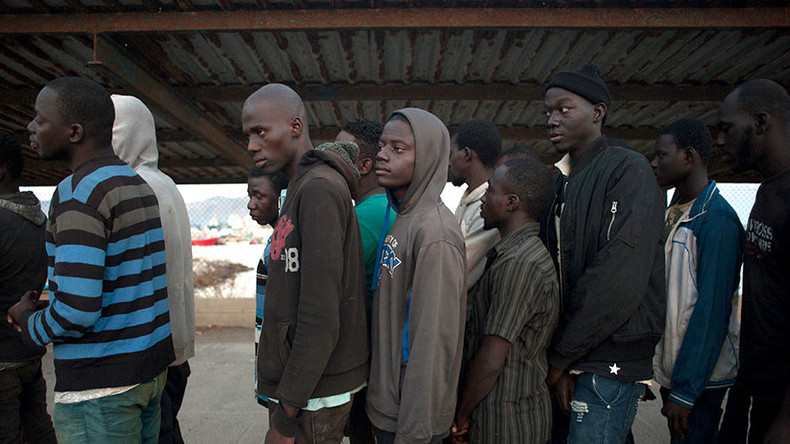 The number of people trying to reach Spain from North Africa has at least tripled this year. Spanish coastguards have reported rescuing almost 600 people in just one day, while the UN expects the country to overtake Greece as the second primary route for asylum seekers.
On Wednesday, Spanish patrols pulled 599 people from rafts and dinghies in the Gibraltar Strait and near Alborán, an island outpost midway between Spain and Morocco, the coastguard reported on Thursday. There were 35 minors, including a baby among those rescued, AFP reported.
The number is considered large for Spain, which is becoming an increasingly popular destination for people seeking to reach Europe in the hopes of asylum.
Earlier, the International Organization for Migration (IOM), a UN-related intergovernmental body monitoring and aiding displaced persons and refugees, said Spain may overtake Greece as second most-used gateway to Europe for cross-Mediterranean migration. As of August 9, the IOM recorded 8,385 arrivals in Spain this year compared to 12,191 in Greece over the same period. Italy remains the primary destination for refugees, with 97,293 arrivals recorded by the organization.
The number of refugee arrivals in Spain has tripled compared to the same period in 2016, according to IOM statistics.
In July alone, an estimated 2,300 people reached Spain across the sea, more than four times the number of a year ago, according to Frontex, the EU's border agency, which said the dismantling of makeshift camps in Morocco and Algeria contributed to the rise.
"The high number of boats coming to the Spanish coast this summer is unusual," a spokeswoman for Spain's coastguard said on Thursday.
IOM figures say the western route across the Mediterranean Sea is almost as deadly for refugees as the others. An estimated 121 people, or 1.4 percent, died while attempting to cross into Spain. This is compared to 2,242 deaths for the route from Libya to Italy, where over 2 percent of people died in attempts to cross the Mediterranean.
The organization warned on Friday that the situation may evolve into a major emergency.
"We understand from our experts in the field that Spain now is going through something like what Greece saw in the beginning of 2015 or Italy even earlier," IOM spokesman Joel Millman told a Geneva news briefing. "Obviously if this grows at the rate it's growing it could be a big emergency."
Increasing pressure on Spain was highlighted last week when refugees arrived in an inflatable dingy at the Los Alemanes beach in the Spanish province of Cadiz right in front of holidaymakers.
People trying to get into Spain from Morocco also regularly try to do so on foot, trying to cross into the Spanish enclave of Ceuta in Northern Africa. Earlier this year a thousand people stormed a 6-meter-high border fence and clashed with security guard from both countries. A more recent incident this month involved 200 people attempting to overcome the barrier, with 67 successfully breaching it.
The news of a record inflow of refugees comes after attacks in Catalonia, Spain, which left 14 people dead and over a hundred injured. While an investigation is still underway, the terrorist group Islamic State (IS, formerly ISIS/ISIL) has already claimed the attack in Barcelona's Las Ramblas area, which is popular with tourists.
Local law enforcement said on Friday that three Moroccans and one Spaniard have been detained in relation to the Catalonia attacks. None of the suspects has a history of terrorism-related offenses, Catalan police tweeted.
Being on a major lane of immigration makes European countries, including Spain, more vulnerable to such attacks, believes former MI5 intelligence officer Annie Machon.
"Spain is one of the key points of access to Europe for migrants and refugees coming from the Middle East and from Africa," she told RT. "This is a sort of a weak spot for the EU, that perhaps Spain is struggling with."
A vehicle attack in Spain was probably not a big surprise, considering IS' attention on this country, said Michael Maloof, a former Pentagon official.
"Back in February of this year ISIS issued a threat, saying that they are going to launch attacks against targets in Spain at prominent tourist areas. And then a month later the British Foreign Office put out a report warning that ISIS was planning attacks in tourist areas in Barcelona," he told RT.
The problem is pan-European and persistent, said political analyst Nikola Mirkovic, who believes that officials like London Mayor Sadiq Khan, who tell Europeans that they have to learn to live with the threat, may be right.
"People have to open their eyes – two weeks ago it was Germany, last week it was France, this week Spain. No country – we're talking Europe but there were similar attacks elsewhere, in Maghreb, in the Middle East – can say it's safe from such an attack today," he said.