Surgeons perform 'world's first' implant of entire 3D-printed plastic skull dome (VIDEO)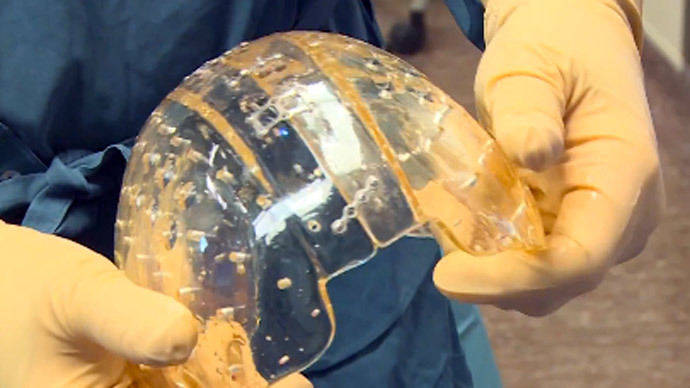 Dutch surgeons have successfully placed an entire 3D-printed skull dome over the brain of a 22-year-old woman suffering from a rare bone disorder. Doctors say this surgery is unprecedented.
As a result of her undisclosed condition, the patient's skull had thickened to 5 centimeters, instead of the usual 1.5 centimeters – meaning the bone was pressing down on the brain tissue causing vision loss, agonizing headaches and cognitive impairment.

When doctors decided to remove the top hemisphere of the skull, they opted for a specially-made plastic shell, which was made on a 3D printer. The technology allows complex objects to be created to precise specifications by a computer-aided machine that places thin layers of material of varying width on top of each other.

"Implants used to be made by hand in the operating theater using a sort of cement which was far from ideal," said surgeon Bon Verweij, in a statement from UMC Utrecht, where the procedure was performed.

"Using 3D printing we can make one to the exact size. This not only has great cosmetic advantages, but patients' brain function often recovers better than using the old method."
The surgery, which took 23 hours, was conducted three months ago, with the results revealed only now, after the follow-up has showed that it worked as planned.

"The patient has her sight back entirely, is symptom-free and back to work. It is almost impossible to see that she's ever had surgery," Verweij said.

The previous landmark was a surgery last year in the US, where 75 percent of a man's skull was replaced with a 3D-printed implant.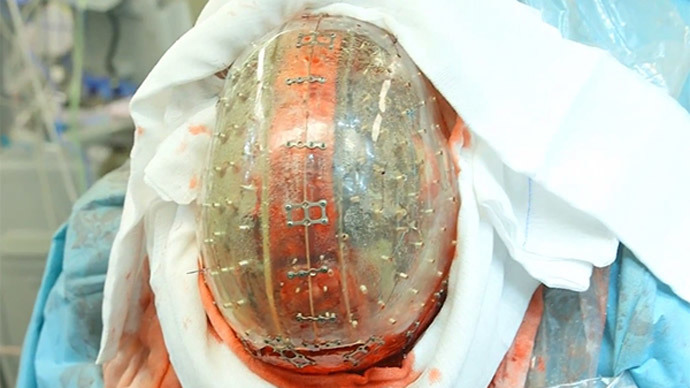 In both cases, the designers first created a three-dimensional model of the patient's head, and then designed the optimum, most natural shape for the implant that could most easily be clasped onto existing bones.
The US Food and Drug Administration sanctioned the use of such implants a year ago, and with demand for such surgeries running into the thousands in US and Europe, they should soon stop being high-tech curiosities, and become standard practice.
You can share this story on social media: