AMAZE: Europe's ambitious aim to 3D print a single-piece satellite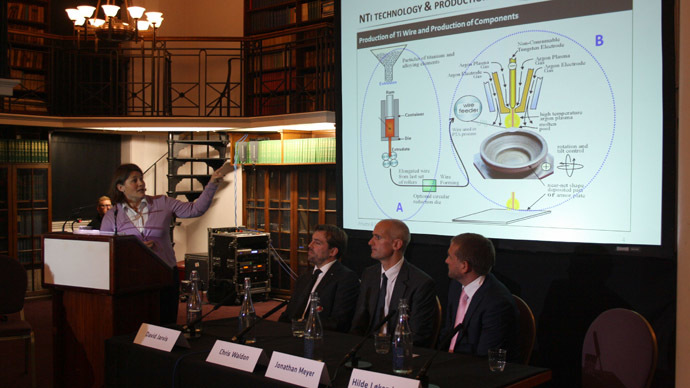 The European Space Agency (ESA) launched its AMAZE project on Tuesday to take 3D printing into the metal age by building parts for spacecraft, jet engines and fusion projects.
The AMAZE project uses what is known as Additive manufacturing or 3D printing – building up parts layer on layer from 3D digital printing, and was officially launched on Tuesday at the London Science Museum. The technology has already revolutionized the way plastic products are designed and made.
AMAZE, an acronym for Addictive Manufacturing Aiming Towards Zero Waste and Efficient Production of High-Tech Metal Products, can be harnessed to print parts for planes and rockets, and would also save money and cut waste because of the way components are made.
We've been joined by @esa this morning, to hear how they are taking 3D printing into space http://t.co/Txkx8bwQz6#PrintTheFuture

— Science Museum (@sciencemuseum) October 15, 2013
By using a layered method of assembly, engineers can create intricate designs, which would be impossible through traditional metal casting.
Using traditional metal casting often wastes the source material and if these are high strength components such as titanium, tantalum or vanadium then they are extremely expensive. 
Additive manufacturing or 3D printing produces almost no waste during the production of metal components, the scientists behind the project say. By printing objects as a single piece without welding or bolting makes them both stronger and lighter.
Parts for jet engines or satellites would therefore be both lighter and more robust. AMAZE would use materials which can withstand temperatures of up to 3,000C, such as tungsten alloy components. 
"Our ultimate aim is to print a satellite in a single piece. - one chunk of metal that doesn't need to be welded or bolted. To do that would save 50 percent of the costs – millions of euros," said David Jarvis, ESA's head of new materials and energy research, as cited by the BBC.
At a temperature of 3,000C components would be able to withstand conditions on the nozzles of rockets or inside a fusion reactor. The Sun is a natural fusion reactor.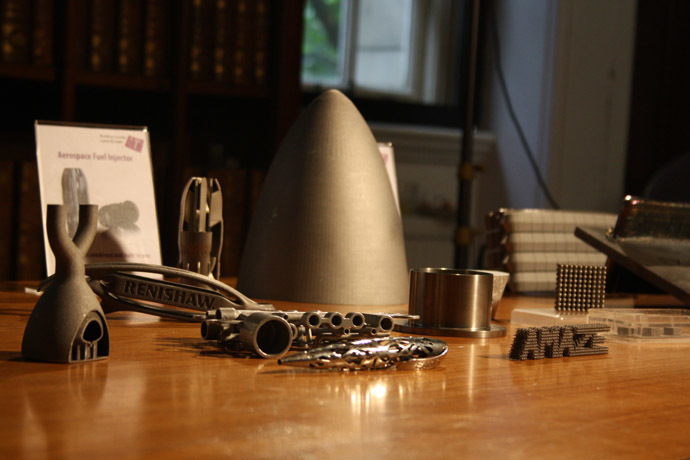 "We want to build the best quality metal products ever made. Objects you can't possibly manufacture any other way. To build a [fusion reactor], you somehow have to take the heat of the Sun and put it on a metal box. 3,000C is as hot as you can imagine for engineering. If we can get 3D metal printing to work, we are well on the way to commercial nuclear fusion," said Jarvis.
28 partners from across European industry and science are working together to realize the 20 million euro project, including EADS, Airbus, Astrium, Norsk Titanium and the Culham Centre for Fusion Energy.
AMAZE scientists have already begun printing jet engine parts and airplane wing sections up to two meters in size. 
But despite his unbounded optimism, Jarvis is honest about the problems that still need to be overcome with Additive manufacturing.
"One common problem is porosity, small air bubbles in the product. Rough surface finishing is an issue too. We need to understand these defects and eliminate them – if we want to achieve industrial quality," he said.
NASA and cut-price space
The Europeans are not the first people to apply 3D technology to the space industry. Earlier this year NASA successfully tested a 3D rocket injector.
An injector is a rocket engine part that delivers fuel of liquid oxygen and gaseous hydrogen into a combustion chamber where it is ignited.
The injector was the largest 3D printed rocket component NASA has ever tested and produced ten times more thrust than any other 3D injector made previously by NASA.
The 3D injector was made of just two parts, whereas its predecessor, made using traditional metal casting, had 115. Now that NASA has proved it is able to produce parts of very sophisticated equipment through 3D, it plans to make more engine parts using the technology.
The US National Network for Manufacturing Innovation and the Advanced Manufacturing Initiative, of which NASA is lead partner, are, like ESA and the Amaze program, looking for ways to reduce the cost of space travel using innovative materials and additive manufacturing.