Iran defends drone flights near US vessels after buzzing carrier in Gulf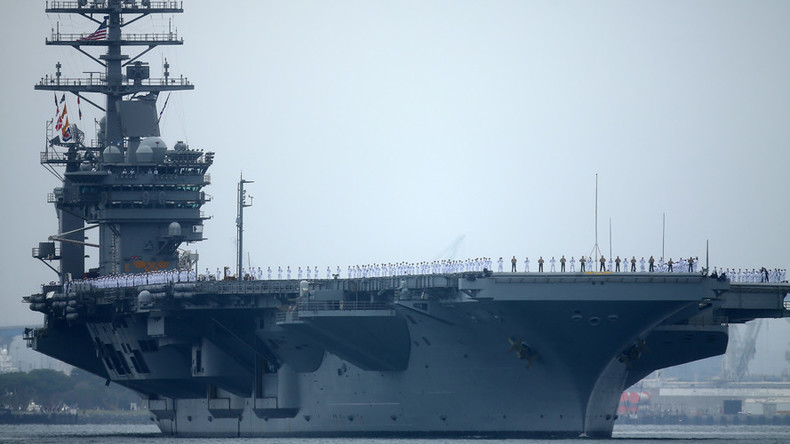 Iran's Revolutionary Guards (IRGC) has responded to American criticism that it conducted an "unsafe and unprofessional" drone flight near a US aircraft carrier, claiming its UAVs are flown in accordance with regulations.
In a statement carried by Tasnim news agency late Monday, the IRGC said it "carries out air patrol missions in Iran's air defense identification zone (ADIZ) every day and in accordance with current regulations."
"The Revolutionary Guards drones are equipped with standard navigation systems and are controlled professionally," the statement added, according to Reuters.
It went on to accuse the US of not having "capable identification and reconnaissance systems," after the US Naval Forces Central Command said on Monday that an Iranian QOM-1 drone had come within 1,000ft (300 meters) of the 'USS Nimitz' while it was in international waters in the Gulf.
Spokesman Lieutenant Ian McConnaughey said the Iranian drone "conducted an unsafe and unprofessional approach" as it passed by the aircraft carrier without navigation lights late Sunday.
McConnaughey went on to say the flight "created a dangerous situation with the potential for collision, and is not in keeping with international maritime customs and laws," the Washington Post reported.
According to the spokesman, the drone moved in despite the US Navy making numerous radio calls to establish communications.
The complaint was the latest in a series of grievances expressed by the US over alleged unsafe and unprofessional interactions between American and Iranian maritime forces this year, with McConnaughey stating that it marked the 14th such incident in 2017.
Last week, a US official said an Iranian drone had approached a US fighter jet as it prepared to land on the 'USS Nimitz.'
The two drone incidents mark the only UAV-related complaints on the US military's list of 14 alleged unsafe or unprofessional actions by Iran, according to McConnaughey.
"While the use of UAVs has become more prevalent in the region, these two occurrences are the only UAV-related unsafe and unprofessional interactions that we are tracking," he said on Monday.
He noted, however, that "the reality is that even one unsafe or unprofessional interaction would be a cause for concern... each instance creates an unnecessary risk of escalation."
Tensions have increased between Tehran and Washington following the election of Donald Trump. The US president has repeatedly called the nuclear deal signed by Iran and six world powers during the Obama administration the "worst deal ever negotiated," and put the country "on notice" after it conducted a ballistic missile test in February.