Japan mulls deploying Patriot missile defense as N. Korea threatens airstrike near Guam – officials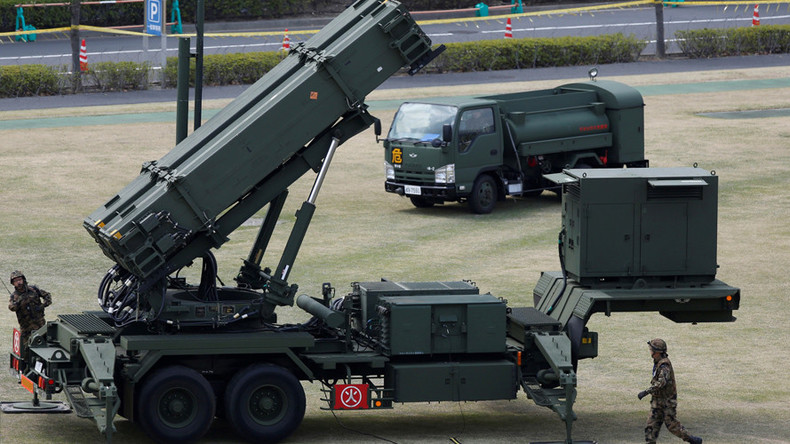 Tokyo is considering deploying four PAC-3 missile interceptors to shoot down any North Korean missiles that stray into Japanese territory while flying over the country on their way to the US Territory of Guam, according to government sources.
Japanese Defense Ministry officials told Kyodo news that the Patriot Advanced Capability-3 (PAC-3) system would likely be deployed at Ground Self-Defense Force bases in the western prefectures of Shimane, Hiroshima and Kochi, areas which North Korea said its missiles could fly over.
Sources speaking to Asahi interceptor would also be placed in Ehime Prefecture.
The decision of whether or not to deploy the interceptors will be made within a few days, the sources told Kyodo, adding that Tokyo wants to be prepared in case North Korea's missiles fail as they cross over the country.
Japan's missile defense program includes the Maritime Self-Defense Force's (SDF) Aegis destroyers, aimed at shooting down airborne missiles, and the Air Self-Defense Force's PAC-3 system, which is aimed at countering missiles that evade Aegis interceptors.
The SDF has already sent an Aegis destroyer installed with the SM-3 interceptor to the Sea of Japan, to be on alert for North Korean missiles.
North Korean state media has reported that details of the country's Guam strike plan are expected to be ready by mid-August.
The report comes after North Korea said it is "seriously examining" a plan to fire four intermediate-range ballistic missiles over western Japan at a spot some 30 to 40 km off the coast of the island of Guam.
In response, US President Donald Trump tweeted that Washington has its military plan "locked and loaded" should Pyongyang "act unwisely."
He added that he hopes North Korean leader will "find another path."
The tweet came after Trump told reporters that Pyongyang should be "very, very nervous" if it does anything to the US, adding that his previous "fire and fury" warning may not have been tough enough.