US sends McCain's namesake to challenge Chinese maritime claims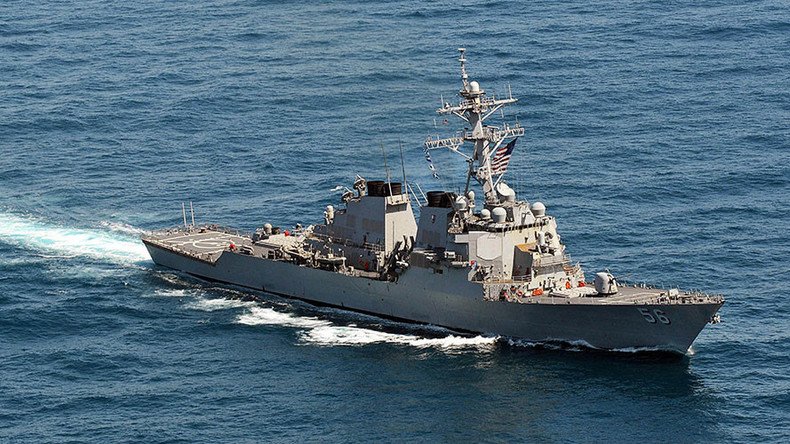 The US Navy has sailed the 'USS John S. McCain' past an island in the disputed Spratly chain in the South China Sea, US officials told media. It's the third mission to challenge China's claim on the territory under the Trump administration.
The so-called "freedom of navigation" mission involved the Arleigh Burke-class guided missile destroyer sailing within the 12-mile range of an artificial island reclaimed by China, Reuters reported, citing US officials, speaking on condition of anonymity.
A Navy official confirmed the operation to Fox News, saying that a US Navy P-8 reconnaissance plane flew nearby to monitor the operation, but stayed outside of the airspace claimed by China.
It was the third mission of this kind since May, when the 'USS Dewey' sailed by Mischief Reef, marking a continuation of such operations under the Trump administration. In July, the 'USS Stethem' passed near another island in the South China Sea claimed by Beijing as its territory and contested by Taiwan and Vietnam.
China is tangled in a web of territorial disputes in the South China Sea with five other regional nations, which also include Brunei, Malaysia and the Philippines. The sea is crucial for Chinese foreign trade serving as a major transportation route for minerals, energy and Chinese-made goods. It is also believed to be rich in natural resources, including oil.
The US supports neither nation's claims and insists that the sea should be a neutral space available for free navigation.
Washington is accusing China of taking an aggressive stance on the issue because of its island reclamation projects. Beijing insists that the artificial islands primarily serve civilian purposes like support of rescue operations and weather observation.
The 'USS John S. McCain' is named after the father and grandfather of Senator John McCain, both of whom served as admirals in the US Navy. It's part of the Seventh Fleet based in Yokosuka, Japan.
The mission comes as the US seeks China's cooperation on resolving the tension over North Korea's missile tests, which is perceived in Washington as a serious threat to the US and its regional allies.
China rejects claims made by US President Donald Trump that it is not doing enough to pressure Pyongyang to halt its rocket development.
North Korea says it needs long-range ballistic missiles and nuclear warhead they could carry as deterrence against a possible American aggression. Fueling such fears, Trump this week threatened Pyongyang with "fire and fury," while media reports said the Pentagon has worked out an operation to bomb North Korea's nuclear sites.
You can share this story on social media: