Stockholm police tighten security at anti-deportation protest after attack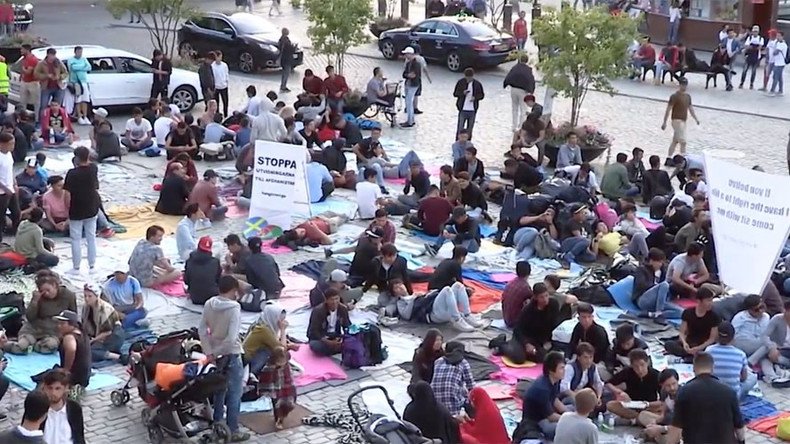 Police in Stockholm have strengthened security at a protest against the deportation of Afghan asylum seekers. It comes after the demonstrators were attacked by people reportedly associated with a right-wing extremist group.
Jens Martensson from Stockholm police told TT news agency on Wednesday that security has been tightened at the sit-in protest at Mynttorget, a public square in the city's Old Town.
"We've expanded security and will keep it in place at least during the day. Then a new decision will be made," Martensson said.
READ MORE: 'Pure racism': Migrants blast Sweden's Camel Park integration strategy
It comes just one day after the demonstrators, most of whom are unaccompanied refugee youths, were attacked by a group of around 15 people who allegedly threw smoke bombs and a lit flare at them.
Three people suffered minor injuries in the attack, which took place around 8pm local time on Tuesday.
Footage posted online by Ruptly news agency showed part of the attack and a group of people chanting, as well as police arriving at the scene.
Eyewitnesses told Swedish media the attackers were from the right-wing extremist group Nordisk ungdom (Nordic Youth), due to their chants and the prints on their clothing.
The extremist group, which has been behind similar attacks in the past, also wrote on its website that it was at Mynttorget to protest.
Martensson said the attackers had been identified, but declined to confirm whether they were from Nordic Youth.
"They were identified and removed. We'll see how we figure out who has done what," Martensson said.
The demonstrators at the sit-in protest are asking the Swedish Migration Agency (Migrationsverket) to end deportations to Afghanistan, citing safety concerns.
They have requested to speak with the agency's general director, Mikael Ribbenvik.
"If Ribbenvik comes here we would meet him with love, because we hate hatred. We fled from hate, we would show love to him. We are not bad for society," Fatima Kmhavari, the group's spokesperson, told TT news agency earlier this week.
In an open letter to Ribbenvik, the protesters wrote: "Is Sweden really a moral country when you say to Swedes not to travel to Afghanistan when it is dangerous, but you think it's safe for us young people to live there? It's not human."
Migrationsverket previously said it is closely following the security situation in Afghanistan, and that there are provinces where it is not possible for people to be returned. However, it has not considered a complete halt in deportations to the country.
"A lot is required for a general position to be taken. The conflict would have to reach a level where it affects everybody in the country indiscriminately – that's the level where we have a general suspension," Ribbenvik said in July.
Migrationsverket processed 12,168 Afghan asylum applications in 2016, of which 4,152 were rejected in the first round, according to figures cited by the Local. A total of 23,000 unaccompanied Afghan minors applied for asylum in Sweden in 2015.
Several migrant communities across Sweden have been described as 'no-go zones' by local media, with police calling them "vulnerable" or "extremely vulnerable." The country added eight more areas to that list in June.
In April, the government-owned postal service PostNord halted mail delivery to some address in the 'no-go zone' Stockholm suburb of Rinkeby, an area known for violence including riots and car burnings.
That same month, Sweden's border police chief said the force of officers tasked with tracking down thousands of migrants that have gone into hiding in Sweden needed more personnel on the team, after a rejected asylum seeker carried out a terrorist attack that killed four people in the country's capital.
You can share this story on social media: