'Pure racism': Migrants blast Sweden's Camel Park integration strategy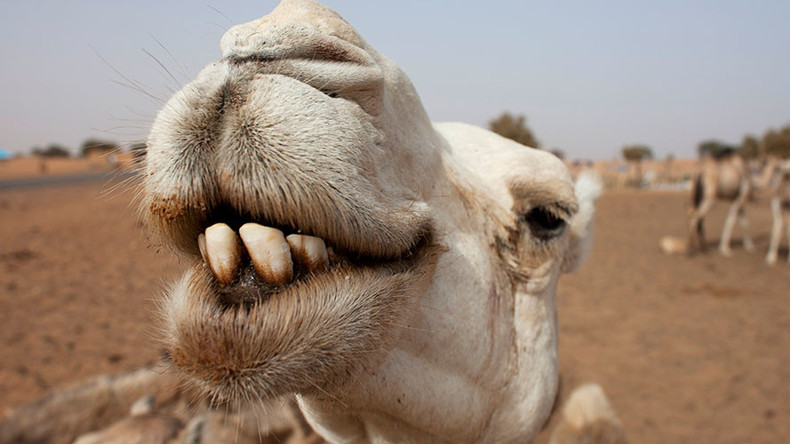 Sweden's second largest city of Gothenburg has invested in a Camel Park saying it will help integrate migrants and turn a depressed neighborhood into a tourist mecca despite strong criticism from politicians, businessmen, and locals.
The Camel Center is expected to be built in Gothenburg's north-eastern migrant-dominated suburb of Angered, and the major goal of the park would be to create jobs for migrants and ease their integration into Swedish society, the Goeteborgs Posten, a local daily, reports.
Geza Nagy, the man behind the startup, said many migrants from the Middle East and Somalia have "extensive knowledge" of camels, which they will be able to apply in the park. He also expressed his confidence that his Camel Park could become a major tourist destination.
"Tourism will become the largest source of income [for the park]. There is a huge interest in camels both in Sweden and abroad. We expect that tourists will come from all over the world, including Japan and China," Nagy told the Goeteborgs Posten.
He also said he has the support of local officials, who "have been very positive about this."
"They [the authorities] really believe in our idea of making Angered a tourist resort," he added. Nagy went on to say that he plans to build stables and a paddock and purchase camels and alpacas at the first stage of the center's creation, adding that visitors would be able to pet and ride the camels.
The startup has been in the works for several years. In 2015 it received about a million Swedish kronas ($ 112,333) from various state agencies and in 2016, Gothenburg city authorities provided financial assistance amounting to 500,000 Swedish kronas ($ 56,166) from the city's integration fund.
However, Nagy says that the project still needs more funds as the construction costs of the stables and the paddock amount to 2 million Swedish kronas ($ 224,666). The money received thus far has reportedly been spent on educational trips to Germany and Kazakhstan as well as producing souvenirs from alpaca wool, toys, and t-shirts. Nagy also imported 1,500 liters of camel milk from the Netherlands and sold it in Sweden.
The project has already provoked a heated debate among local politicians and has been sharply criticized by some commentators. Bert Karlsson, a businessman and a former Swedish MP, denounced the Camel Park idea by calling it "stupid."
"This must be a joke," he told the Goeteborgs Posten, adding that "it will never work in reality."
"That is what you have to do on the tourist trip abroad when there is nothing else to do. You ride [a camel] once and then you will never come back," he added.
The project was also questioned by Maria Lexhagen, a tourism researcher at the Mid Sweden University, who said she "does not see a great demand for camels – especially in Sweden."
"It will take a great deal for something like this to succeed and become self-sustained," she said.
However, local officials, who decided to lend financial assistance to the project, insist the Camel Park could still become a major success. "We thought it was an exciting integration project which could also attract visitors to Angered. It was also promising because it could lead to jobs," Marina Johansson, the Chairwoman of the Gothenburg Social Resource Committee, told the Goeteborgs Posten.
"If we grant money for something that does not succeed, it is still something we can learn from," she added, stressing that the municipality can always demand a refund from the project.
The initiative was also criticized by some residents of the Angered neighborhood, who accused the authorities of racial stereotyping.
"If I had wanted to work with animals or crops, I would have gone back to Namibia," Florence Hansen, a local resident told the Goeteborgs Posten, adding that the district "needs money for education, housing and real jobs."
"We do not want more animals here. We immigrants are already a stigmatized group and this project is pure racism," she added.
Sweden, which has a population of about 9.9 million people, hosted about 127,000 migrants in 2014, according to the EU statistical agency.
It received more than 163,000 asylum claims from people coming from the Middle East and North Africa since the summer of 2015 and took in one of the greatest numbers of refugees per capita along with Austria.
Meanwhile, the inflow of asylum seekers in Sweden, a country with one of the most liberal laws towards refugees, is putting an increasing strain on the country's police.
The already uneasy situation with crime in several Swedish cities, including Malmo and Gothenburg, believed to be aggravated by an inflow of undocumented asylum seekers, prompted Swedish authorities to introduce so-called no-go zones.
To be considered a no-go zone, the area usually has to be marked by a dangerous incidence of muggings, robberies, harassment, and sexual assault. In September 2016, the number reportedly rose to 55 areas.
You can share this story on social media: